March 17, 2016 - 12:44pm
Sweet Time Farm opens Maple Weekend 2016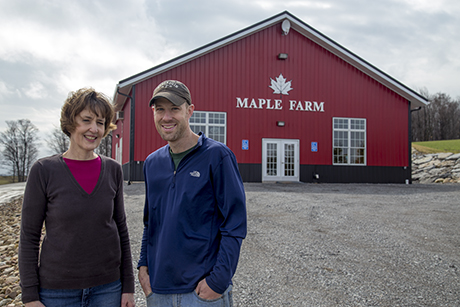 Since age 12 Brad White, pictured above with his mom Marcia White, has had a passion for producing maple syrup, which started out to be something to try out and process in a small A-frame sugar house.
Sweet Time Farm grew from being their family hobby of just having a couple buckets to purchasing "Out on a Limb Maple Farm" from Shawn Dunning last year. Sweet Time is located at 5680 Webster Road, Wyoming, in Wyoming County.
Since taking ownership in 2015, Nicole and Brad White has to date 14,000 taps that cross lines between Genesee, Wyoming and Livingston counties.
This year has been a bit of a challenge with the warmer temperatures. Brad started tapping trees the first week January that took a couple weeks to produce maple syrup. It has not been a stellar year by any means, he said.
They have been running operations daily here at the farm where the sap runs to a 16,000-gallon holding tank then passes through filters, with reverse osmosis, and UV light to a another holding tank. Daily the family fires up the evaporator and boils 18,000 gallons or more per day depending on weather.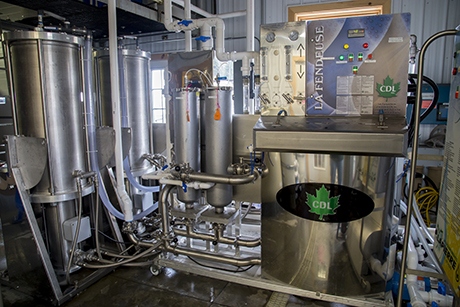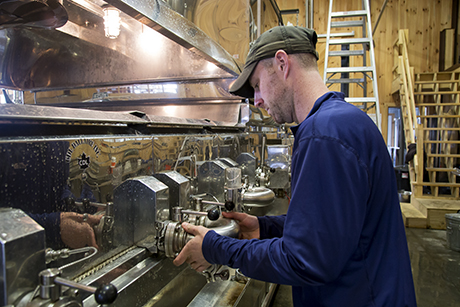 Currently he was getting 1-percent residual sugar coming from the taps. That's about half a crop in the present year, which takes 86 gallons to make a gallon of syrup.  Ideally 2 percent is the 40-1 ratio needed to be most efficient. 
The farm ships 90 percent out bulk wholesale in 55-gallon drums and the rest is sold at the store. They have a handful of farmers markets in the summer time that they supply nearby, which include Pully's and Crnkovich's Farm Market in Le Roy, Hurd Orchards in Holley, The Farmer's Wife in Pavillion, and Rob's Farm market Spencerport.
When maple syrup season is done, the family moves on to pollenating fruit orchards when the apple blossoms come out. They lease out over 800 hives and use 150 hives themselves. The hives are typically stored down south in Georgia to keep them from the cold weather but they were stored up here this year. 
Two Maple Weekends are scheduled with tours hosted at maple sugar houses across New York State: March 19 and 20; and April 2 and 3. Hosting farms will be open from 10 a.m. to 4 p.m. those dates.
At Sweet Time Maple Farm this Saturday, planned activities will include an Easter Egg hunt for kids, coloring contest, maple candy in shapes of Easter bunnies, plus more products offered in their store.
For more information go to: http://www.sweettimefarms.com/ 
Facebook Sweet-Time-Maple and their Maple Weekend event.