Image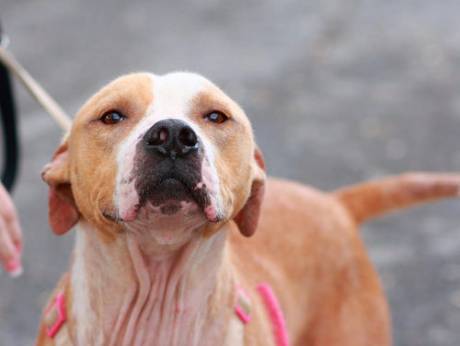 Photo of "Mike."
This information is from the newsletter of the Volunteers for Animals at the Genesee County Animal Shelter. They encourage everyone to give the gift of health and compassion for homeless and needy cats and dogs by donating money, food and/or supplies to the shelter. And consider bringing home a new BFF by adopting a pet today. Just in time for the holidays, you could give a forever home to a forever friend.
How "Mike" got a second chance at life and to learn what it means to be loved and cared for...
A scrawny, hairless dog was brought to the Genesee County Animal Shelter by the woman who found him lying in the road. She stopped and helped this oozing, smelly, weak dog into her car. That alone is amazing but she continued to visit him at the shelter right up to the day he was adopted about six weeks later.
"Mike" had a terrible case of mange and a skin infection. He was very underweight and bony. His skin was bright red, oozing and itching constantly. He was taken to the vet and started on medications for the mange, the infection, and the itching. He was bathed regularly and put on a special diet to gradually increase his weight.
It wasn't long before little patches of fur began to grow in. Mike gained weight and started to show interest in his surroundings and in the volunteers who cared for him. His rescuer visited at least two or three times a week. She walked him and brought him special treats. He loved visiting with her and always wanted to check her pockets to see what she had brought for him.
Mike had a bout of stomach problems and needed further treatment but within a week or so he was back to normal and enjoying his walks again. Mike's new fur came in soft and shiny and by the time he went home his coat was almost perfect. The volunteers spent a lot of time with Mike, walking and playing with him. He was always a gentleman, polite with other dogs and gentle with every person he met.
Mike's rescuer couldn't adopt him but she brought a few potential adopters to meet him. In the end it was Mike's patience and good nature that made the difference. He found his person.
There was a celebration at the shelter when Mike finally walked out the front door to go home and his rescuer was there to share the big moment along with the volunteers. What a lucky dog! How many cars must have passed Mike while he laid on the road before this wonderful, compassionate woman stopped and scooped him up off the road.
Image
Photo of "Lucky."
How "Lucky" lucked out and found a bunch of new friends to chill with...
"Lucky" is a 14-year-old cat that was brought into the Genesee County Animal Shelter because her family had no place to live that would allow animals. She had been theirs for 14 years. They said she was a very sweet cat who loved having her belly rubbed.
Lucky was tested for FIV/FeLV, which was negative, and given her vaccines. She was not spayed so the issue was debated and volunteers consulted with a vet. She did great with the surgery. Finally, she was available for adoption.
They knew it would take a very special person to adopt this very special kitty but we were patient. Her story was posted on Facebook, which got over 2,500 views and 30 shares! They were hopeful.
After a couple of weeks, there was an opening at Petco and someone suggested Lucky go there to try her luck. They packed up her favorite bed and got her settled at Petco. With little time to settle in, someone came along and fell in love with her. They put their application in for review.
As luck would have it, the person was a resident of a local group home. The manager of the home spoke highly of the resident and she was immediately approved. No one could imagine a better place for Lucky. Word is that Lucky has settled right in and gets along great with all the residents. And best of all she is a part of their family now!
******************
So far in 2015, Volunteers for Animals have spent more than $70,000 on vet care, tests, vaccines and medications. They paid for: orthopedic surgery on a lab with a badly healed fracture; provided heartworm treatment on a sweet lab girl; covered the cost of a C-section on a mama dog who was having trouble birthing her puppies; provided dental care for a JRT with a mouthful of rotten teeth; and did treatment for possible parvo on a little pit puppy.
A local vet reached out to take over rehabilitation of a cat that had such a badly infected bite wound that they had to surgically remove part of her shoulder; she recovered and was adopted. Numerous cats and kittens came into us suffering from dehydration, diarrhea, fleas, worms, bite wounds, eat mites or infections, and upper respiratory infections.
More than 100 kittens too young to be adopted went into loving foster homes until they were big enough to be spayed and neutered prior to adoption. All of the animals adopted out of the Shelter left with vaccines, deworming and flea treatment, and were spayed/neutered. These are just some of the things donations go toward for the animals that come through the doors of the Genesee County Animal Shelter.
Last year, 523 dogs and cats were spayed and neutered. This year, they are on track to do even more. Also, they have started to provide assistance to the community for the spaying and neutering of pets. After receiving a substantial donation at the end of 2014, they started a Community Spay/Neuter Program. In partnership with local vets, they are now providing low cost spay/neuter for pets to the local community.
So far this year, more than 230 families got their cat or dog spayed/neutered thanks to the new program, as well as vaccinated against rabies and other deadly viruses.
In August, they were awarded a grant for $20,000 from the ASPCA to provide low-cost spay and neuter of dogs and cats belonging to NYS residents who receive public assistance. The grant, via a voucher system, will cover the spaying or neutering of the pet, a rabies vaccine, a distemper vaccine and deworming. They hope to help close to 250 animals with the grant. They are committed to reducing the population of "unwanted" dogs and cats in Genesee County and are asking for your help and support to continue this important work.
Volunteers For Animals is a 100-percent volunteer 501(c)(3) nonprofit organization that assists the Genesee County Animal Shelter, making possible efforts that cannot be achieved via the County's operating budget. Your charitable gift is tax deductible and goes directly toward saving lives and providing comfort to the animals that depend on us.
To learn more and to donate, visit the Volunteers for Animals on the Web, or mail a tax-deductible contribution, payable to Volunteers for Animals, to this address: Vol.unteers for Animals, P.O. Box 1621, Batavia, NY, 14021.
Visit the shelter during visiting hours to meet potential furry companions, and to drop off much-needed cat and dog kibble, canned food, cat sand, paper towels, cleaning products, etc.