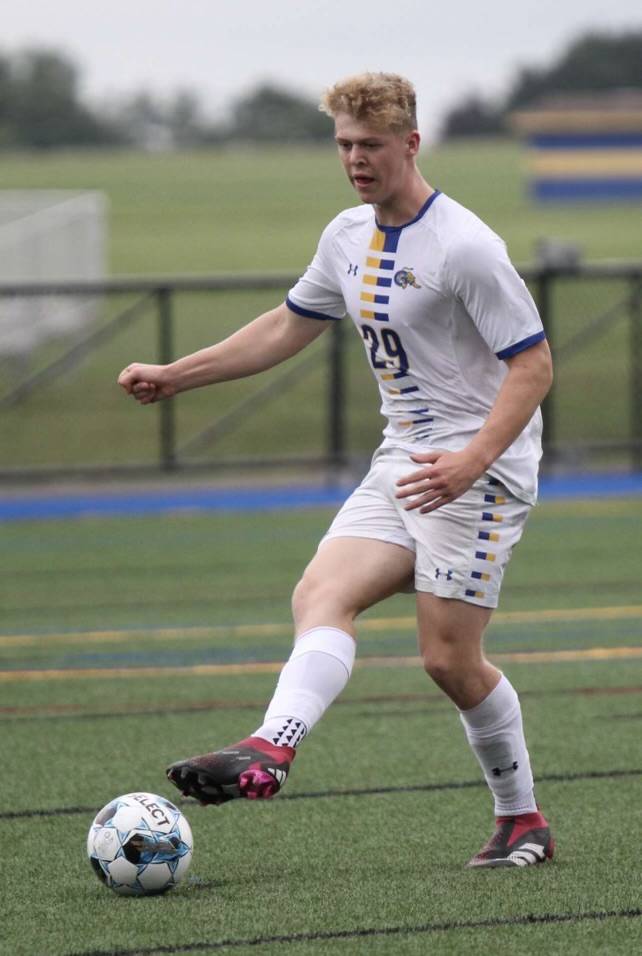 Ethan Walker, 17, was hardly a shrinking violet on or off the soccer field, standing six-foot-one, playing center back, and demonstrating talent and grit that made him a top recruit and fast friend from Scotland, Ben Bacon says.
"He was an absolute monster on the field. He was built like a rhino," Bacon said to The Batavian of his teammate and fellow freshman at Genesee Community College. "His determination on the field was just outstanding. He's just a beast. He's one of those people who you will never ever, ever see him in a bad mood, and he'll always have a smile on his face."
It is perhaps Ethan who needs — and is getting — smiles, kind words and both moral and financial support in his great time of need after a major accident on Sept. 12. 
He was walking back to his dorm from an off-campus residence that night and was hit by a Toyota RAV4. Two of his teammates called for police and medical assistance, and he was transported by ambulance and then flown by Mercy EMS to Erie Community Medical Center and admitted to the Intensive Care Unit, "where they fought to keep him alive," Bacon said in an online post. 
"The medical staff said he was suffering from a shattered right scapula, dislocated right knee, tearing of all the ligaments in his right knee, multiple fractures in the right side of his face, skull fractures, as well as swelling and bleeding in the brain," his post states. "Ethan's mother was notified, and she was able to book a flight and get here from Scotland only a day later. You can only imagine what she was going through as her son was fighting for his life, and she was across the world from him."
Bacon created that post as part of a GoFundMe fundraiser to assist his friend's family with the medical expenses to come from Ethan's care and treatment. Since he was here as an international student, he did what most students do and chose the cheapest insurance plan because no one expects something like this to happen, Bacon said. 
When the accident first occurred in the wee hours of the morning, only a small portion of students knew about it, and then as more people learned about it, they went from being shocked and distraught to "everyone wanted to help," he said. "It brought the entire school community together."
"It felt like one big family," he said, that included students, staff, administrators, and family members. That big lug "built like a tree trunk" who would lift everyone up and "always bring the positivity" level up anywhere he went has now been getting it twofold from friends and strangers alike.
The fundraiser has gotten donations from 820 folks so far, many of whom are including prayers, thoughts and well wishes for a speedy recovery and to stay strong. A goal of $50,000 has been more than half met so far, with a total of $27,342, and Bacon wants to see it keep rising to alleviate at least one worry for the Walker family. 
Ethan's girlfriend and dad also flew here shortly after the accident and have been staying nearby as he gradually begins to heal enough to return back home to Aberdeen, Scotland. 
International students are commonplace to the GCC soccer program, Bacon said, which has been very successful — it's #2 in the nation as a D-3 sport — and has more frequently been recruiting overseas for players. There are only four American students out of a roster of 28 players, he said. The soccer coach is from Ireland, and the team captain is from Scotland. 
Ethan lived one floor above Bacon, and they'd meet in Bacon's room, which was in the middle for everybody as a common room to hang out. "So he's in our room quite frequently, and he's one of the ones that I grew closer with," Bacon said. 
What's not to like? Ethan was a super hard worker and "a pretty standout guy," he said. He traveled alone from his homeland to pursue his dreams of obtaining a good education while playing professional soccer, or "futbol," as he'd say.
"He was constantly in the gym and doing everything he could to improve and be better," Bacon said. "He's a very intimidating person, but one of the happiest and nicest, friendliest people I've ever met, one of those kids that kind of just lifts everyone up and, like, makes the total aura and vibe around him kind of happier and better to be in. 
"He really just is always bringing positivity wherever he is, whether it's in the classroom, on the field, and just a conversation that he's having with a couple of the guys, wherever it is, it's always boosting and making it a more respectable and positive environment," he said.
He and his teammates have been visiting the patient as often as possible, and he was recently moved out of the ICU, a good sign of Ethan-like progress.
"He keeps improving every day," Bacon said. "Everything seems positive." 
While there have, of course, been negatives given such a tragic accident, Bacon has also gleaned the positives from so many people rallying together to support their fellow student and his family, he said. 
"We're more than thankful and extraordinarily grateful for the school and community," he said. "That would be lovely to reach (the goal), and we will keep raising it as much as we can. Once the donations are done, all will be transferred into his accounts to pay the bills.
"This tragedy was extremely unexpected, and on behalf of me and my family and Ethan's close friends, teammates, coaches, and administrators, we wanted to set up this GoFundMe to help and assist Ethan and his family through this long, difficult, and painful process of recovery and healing, and getting Ethan back out on the pitch as soon as possible," his online post states. "Ethan's family and our college have been involved with me starting this fundraiser on his behalf from the beginning. Ethan is my friend and teammate here at Genesee Community College, and Ethan's parents are here with us in the USA now while Ethan is in the ICU. Ethan will be the direct beneficiary of 100 percent of these funds, and his parents will personally ensure these funds will be deposited into Ethan's account. We post this to remain in compliance with GoFundMe and to ensure there is trust between us and those of you who have been so generous!"
Go HERE for more information or to donate.
Submitted photos.
Image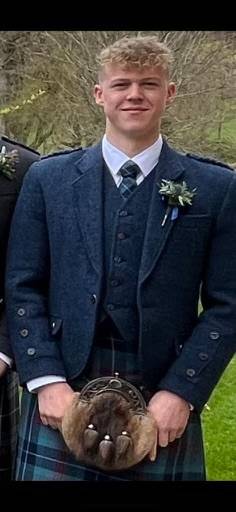 Image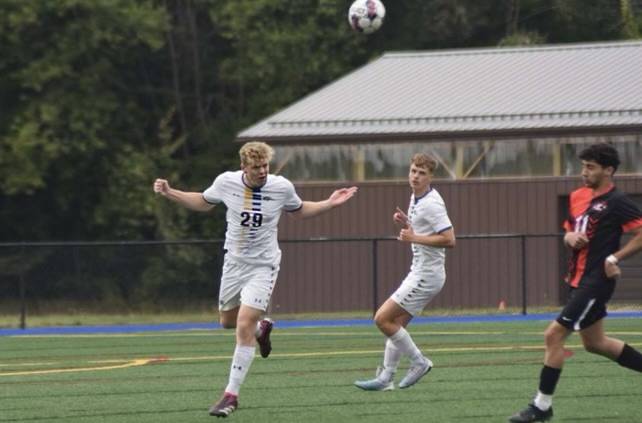 Image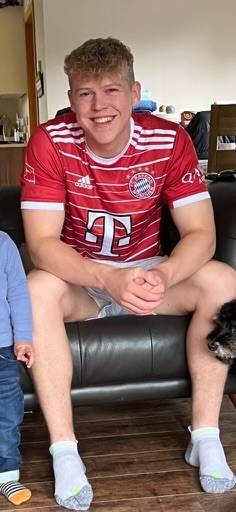 Image