Press Release: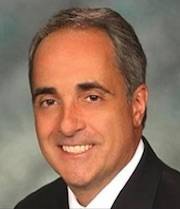 James Saraceni is the son of Thomas and Louise (Belluci) Saraceni. His grandparents, Arthur and Amelia (Soccio), immigrated to America from Vasto, Italy, which is located on the Adriatic Sea. They had the courage to leave their country, for a better life, at the young age of sixteen. They had twelve children. His maternal grandparents, Biaggio and Anna Bellucci also came to America in the early 1900s. He has strong Italian roots.

Jim grew up on the south side of Batavia. He is a 1980 graduate of Batavia High School, furthering his education at Genesee Community College and the University at Buffalo. He has worked in the banking and real estate business for the past 37 years and currently works at Prime Lending. He has been married to his wife, Christine Antinore for 33 years. They have two daughters, Samantha (Cody Ruhlen) and Alex (Doug Zalenski). Their granddaughter, Finley Christine, is the apple of their eye. 

He served on the Paolo Busti Board of Directors for 15 years. He held the office of Treasurer. He has volunteered for the United Way, is a frequent donor to the Red Cross, and for many years enjoyed volunteering at the St. Anthony's Lawn Fete. 

Family is extremely important to him, and a huge part of his life. He not only is involved with his children, but with his nieces and nephews. He can be seen cheering them on at all their activities, or swimming in his backyard, and enjoying a traditional Italian meal. 

Jim feels strongly that growing up on Hyde Park, in a neighborhood composed of large Italian and Polish families, was instrumental in shaping his life. He said, "The Italian and Polish cultures rooted us together, taught me the importance of family, both immediate and extended, how to be resilient, and to work hard. It taught me how much was given to us, and that we need to pay that forward to keep the spirit of our parents and grandparents alive." Jim's family values, love of church, pride in his heritage, and commitment to Italian traditions, have made him the ideal candidate for the Outstanding Italian American 2023.
Photo submitted by Annette LaBarabera