Image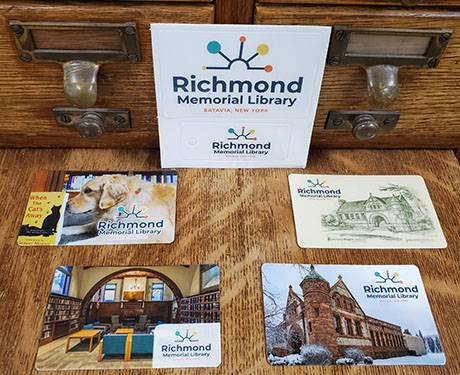 Image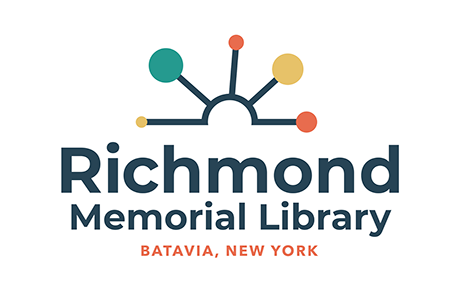 Press release:
To coincide with National Library Week, April 3-9, 2022, the Richmond Memorial Library is offering a selection of new library cards featuring classic and contemporary images.  The cards also feature a new library logo, in use since earlier this year.  The new cards will be available beginning Monday, April 4.

Images on the new library cards include a striking photograph of the historic 1889 building in winter, taken by local photographer Jim Burns, and a certified "reading therapy" dog named Tillie reading a very unlikely selection.

 "We are so pleased to officially reveal the logo," Library Director Bob Conrad said.  "It captures many facets of who we are and how we serve the community." The logo was the culmination of a brand marketing initiative that solicited stakeholder input and community feedback, according to Conrad. The library worked with Causewave Community Partners in Rochester, an organization that assists non-profits and libraries with marketing, workplace development, board training, and more. A group of employees, trustees, and community members met for several workshops to learn about brand marketing, and then to articulate the library's many roles and purposes in the community. After a "brand platform" was developed, graphic designer Andrew Soucier of Soucier Design created a bold new logo based on the results.

According to a "logo rationale" provided by Soucier , the "logo mark" represents several ideas. "The essence of a trusted community hub is represented by the 'hub and spokes' design. The mark can also been seen as an abstract book spine, with pages radiating around it, or a nod to the prominent architectural feature of the library itself: an arch. It is meant to not explicitly depict any of these, but is left open to the viewer's interpretation."

Viewers' interpretations of the abstract logo have run the gamut, according to Community Outreach Librarian Samantha Basile. One patron interpreted it as "Friends, sitting together at a table." A library volunteer found the circles reminiscent of a motif in the library Reading Room's leaded-glass windows.  Still another saw a sunrise.

"The earthy colors of red, yellow, blue, and green … present as a grown-up version of a primary palette," the logo rationale continues. "This retains an element of playful youth, but keeps the logo in a more usable and sophisticated color space."  Conrad translates: "It's kid-friendly.  It's family-friendly.  But it still has grown-up appeal."

Just as much consideration was given to the "word mark" portion of the logo.  "The word 'Richmond' is set large, based on our experience that 'Richmond' is what people actually call us," Basile explains.  "Like, 'Mom, I'm going to the Richmond.' But 'Batavia, NY' is included, too, because we're not known or recognized very far beyond Genesee County – and sometimes, we want to be, for example with our vendors, or within the library industry."

"The logo communicates a lot, very quickly," Conrad agrees.  "It tells you exactly who, what, and where we are, and some indication of how we try to be.  Many of the world's most famous logos don't do that much."

To celebrate the new logo, the library will waive the usual $1.00 replacement fee during the month of April 2022. But be careful.  "A new card will have a new number," Conrad warns, "So if you already have your account number memorized, or if it's saved in all of your eBook and audio apps, then you might be better off just sticking with what you've got, at least until you lose it."

How to get a library card
A first library card is free for most area residents. To qualify, be a resident of Genesee, Orleans or Niagara County OR work, own property or attend school within the borders of the Batavia City School District and provide proof thereof.  Provide a current, valid form of photo identification with your current address.  If your ID does not have your current address, bring an alternate proof of address like a recently postmarked piece of mail, a utility bill, or car insurance.

For people under 18 years of age, the patron must be able to sign their own name and have photo ID with proof of current address OR their parent or legal guardian must provide the same to establish proof of residency.

Non-residents can also obtain a card for an annual fee of $40.00 (for 12 months), or a quarterly fee of $12.00 (for 3 months).