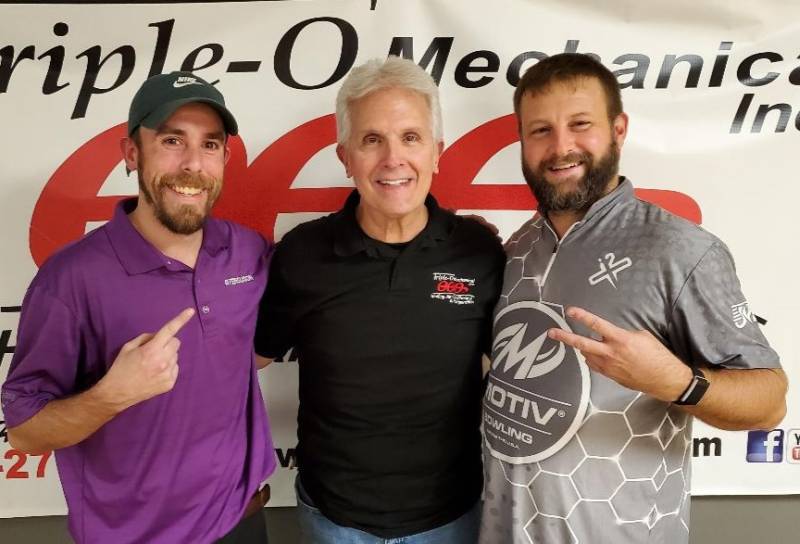 In its 16th year, the Triple O Mechanical Singles Handicap Tournament at Rose Garden Bowl in Bergen continues to be a hit with bowlers throughout Western New York.
The latest edition of the popular mid-November event unfolded on Sunday with 70 participants – just two shy of the maximum number for the tournament.
"The success of the tournament speaks for itself," said Tom Sardou, proprietor at Rose Garden Bowl and Viking Valhalla Restaurant. "We have a loyal following and a sponsor that is committed to the sport of bowling, so we hope to keep it going as long as we can."
When it was all said and done yesterday – following three qualifying squads and four rounds of eliminator-style finals – Doug Bates of Greece, a 33-year-old right-hander, walked away with the $700 first prize. He is the 16th different winner since the tournament's inception in 2008.
Bates, who entered with a 200 average, defeated Justin Wyman of Rochester in the title match by rolling 227 scratch plus 22 pins handicap for 249. Wyman posted 194, and took home $350 for his second-place finish.
The 16-player finals included three women – Caycee Bardol of Brockport, Samantha Hyde of Le Roy and Susan Costello of Rochester. Bardol and Hyde made it to the "final four" and each earned $250 for their efforts.
Seven "senior" (55-and-over) bowlers made it to the finals. They were Jimmy Doerrer of Rochester, John Lowe of Le Roy, former champion Mickey Hyde of Alexander, Pat Brick of Buffalo, Scott Gibson of Oakfield, Mark Mack of Le Roy and Don Perrault of Rochester.
Others making it to the finals were Chris Bardol of Brockport, Scott Dingman of Rochester, Kevin Gray Jr. of Warsaw and Dan Robinson of Rochester.
Lowe, Mack, Doerrer and Costello made it to the second round, winning $125 each. Those eliminated in the first round earned $80 each – doubling their money.
Title sponsor Triple O Mechanical contributed $500, and Rose Garden Bowl donated another $250 into the prize fund.
"This event has stood the test of time, and we truly appreciate all of the bowlers from throughout Western New York and beyond that enter year after year," Sardou said. "You don't find many tournaments with this great of a prize list for just a $40 entry fee."
Bates, employed by Ferguson plumbing and HVAC warehousing, was the high qualifier with 782.
He said he returned to bowling on a regular basis about three years ago following neck surgery "that kind of slowed me down for a while."
"I bowl in leagues at Domm's (in Rochester) and have been working my way back," he said. "My game is on the upswing now."
His scores throughout the day proved that as he led the qualifying with a 782 three-game series (716 scratch) and followed that with scratch games of 223, 232, 244 and 227 in the finals.
Bates, Doerrer (756), Wyman (749), Lowe (742) and Samantha Hyde (740) earned the five guaranteed spots to the finals. It took 702 to make the finals, with Perrault getting in via the "super senior" incentive with 687.
Highlights of the day included 300 games by Wyman and Dingman during the qualifying round. The tournament is certified by the United States Bowling Congress so the perfect games will be added to their career achievements' list.
TRIPLE O MECHANICAL CHAMPIONS
2008 – Laurie Morgante, Bergen
2009 – Dan Robinson, Chili
2010 – Debbie Falbo, Bergen
2011 – Melanie Balduf, Bergen
2012 – Kevin Gray Sr., Warsaw
2013 – Brian Decker, Rochester
2014 – Albert D'Ambrosia, Rochester
2015 – Rob Husted, Spencerport
2016 – Chris Bardol, Brockport
2017 – John Martorella Sr., Rochester 
2018 – Jeff Dewar, Rochester
2019 – Dan Keenan, Rochester
2020 – Mickey Hyde, Le Roy
2021 – James Townsend, Batavia
2022 – Bill Neubert, Batavia
2023 – Doug Bates, Greece