June 2, 2015 - 1:44pm
Erin Kelly set to speak at The City Church
The Batavia City Church will host guest speaker Erin Kelly, oldest daughter of Buffalo Bill's former quarterback Jim and his wife, Jill, as part of their Life Night Service.
The service will take place at 7 p.m. on Thursday, June 4. The church's band will start the service and then Erin will share thoughts and personal experiences from her latest book "Kelly Tough." A question and answer session will follow.
The book is a story of love between a father and his daughter. In her book, she emphasizes how her faith in God and ability to find strength in weakness helped her to withstand the challenges of her father's and brother's illnesses. 
Marty Macdonald, senior pastor at The City Church, talked with Jill Kelly's brother, Jack Wagner, to set up having Kelly speak at The City Church. According to Macdonald, the church loves what the Kelly family stands for and everyone is looking forward to hearing her story of family love and the greater love of the heavenly Father.
"I hope it will really bring people home," Macdonald said. "There are so many people in our society that are facing challenges whether it's cancer or broken homes or loss of employment, so many things that bring pain and hurt to people. Our hope is that as Erin is sharing her story it will bring great encouragement and hope to let them know that, hey, you can make it. You can go on another day and you don't have to give up."
The City Church regularly invites guest speakers to share their stories at their weekly Life Night Service. The church will welcome their next guest, Pastor Tommy Reid, for their Sunday morning service at 8:30 a.m. on June 7.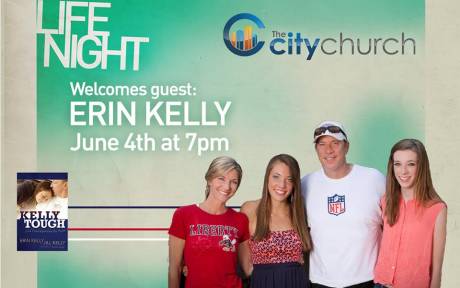 Photo from The City Church's Facebook page.