May 13, 2016 - 8:00am
Fighting the dragon: Overcoming opioid addiction in Genesee County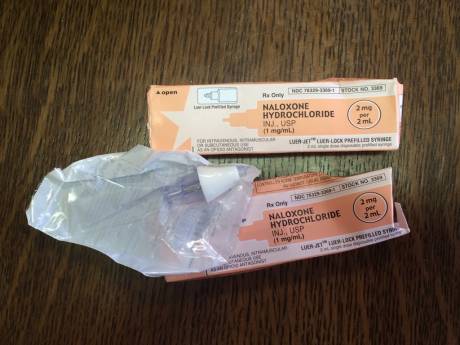 (Two doses of Narcan, a medication used to reverse opioid overdose, with a nosepiece applicator are kept in every road bag at the Batavia Police Department.)
Jenna Brown was an honor student and captain of the cheerleading squad at Elba High School. Like any typical teenage girl, Brown wanted to fit in so she drank and experimented with drugs to get her peers to like her. She found partying to be empowering and never thought addiction would happen to her. Although she had a lot of friends, she felt alone.
In 2012, she graduated from high school and went off to Alfred State College to get an associate degree in Nursing. Everything seemed to be fine until she went through a bad breakup during her first year. She was shattered inside and didn't know how to cope.
Brown's mom, Kathy Miller, noticed some changes in her daughter's behavior but just thought she was trying to find her way.
"She would call at all different times, sometimes crying, sometimes homesick, sometimes sounding lost and sometimes happy," Miller said. "That first semester was chaotic."
In an attempt to make new friends, Brown started partying again and met a guy. After hanging out with him several times and watching him make frequent trips to the bathroom, she discovered he was using heroin. By then her drinking was out of control and she was curious about using. The guy helped her inject her first hit of heroin.
"I loved it and hated it at the same time," Brown said. "I hated it for the way it physically made me feel but mentally it was the solution for me. It helped take away the loneliness. When I did heroin, I didn't care about being alone."
Heroin use has more than doubled among young adults ages 18 to 25 in the past decade according to the Centers for Disease Control. The 2013 National Survey on Drug Use and Health stated 2.4 million people abused or were dependent on opioids including heroin and prescription painkillers. Opiates are drugs derived from the opium poppy. Opioids are synthetic or semi-synthetic drugs that are manufactured to work in a similar way to opiates. The term opioid is used to describe the entire class of opiates including natural, synthetic and semi-synthetic.
Over the last few years, Genesee County has seen the opioid epidemic on the rise. Genesee Orleans County on Alcoholism and Substance Abuse has about 100 patients on Suboxone, a medication used to treat opioid addiction. Approximately one-third of individuals in Genesee County Drug Treatment Court are opiate dependent.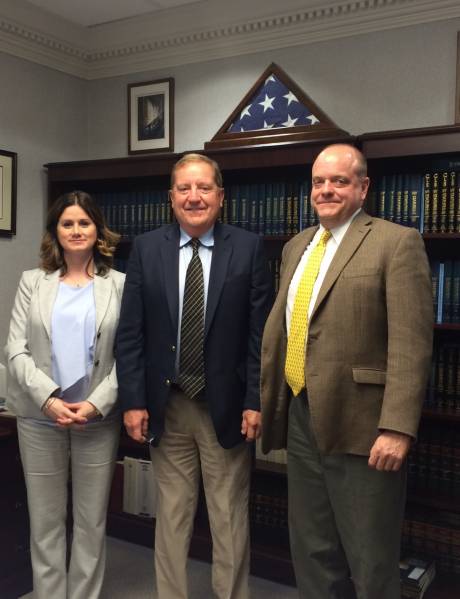 (Nicole Desmond, drug court treatment coordinator, Judge Robert Balbick and Jeffrey Smith, project director for the 8thJudicial District.)
"We have been doing treatment court for 15 years," said Judge Robert Balbick, who runs Genesee County Drug Treatment Court. "Opiate addiction has changed the way we look at treatment because we're dealing with a deadly situation."
Due to the high risk of overdose, quick access to treatment is crucial. Throughout the program, Nicole Desmond, drug court treatment coordinator, strictly monitors participants' progress by getting weekly updates from them and issuing random drug testing. The program lasts an average of 18 months. If participants relapse, the team takes immediate measures to get them into inpatient treatment to prevent overdose.
In 2015, 15 deaths were caused by drug-induced overdoses in the county according to the Genesee County Health Department. Prescription opiates were used in combination with other prescription drugs and/or illicit drugs that contributed to at least six deaths. An illicit opiate was used in combination with prescription drugs that contributed to at least two additional deaths.
"Heroin is increasing steadily to the point where now we are dealing with overdoses," said Det. Sgt. Todd Crossett at the Batavia Police Department. "It's all over and it's become a lot more dangerous than cocaine was because it's being laced with synthetic fentanyl which you don't know what you're having until you inject it and it's too late."
Drug dealers cut the heroin with fentanyl, the strongest opioid used for medical purposes, to increase the potency. This deadly trend has led to a recent surge of overdose deaths. Batavia police officers carry Narcan, a drug used to reverse opioid overdose, in their cars. When they respond to a potential overdose call, the needle is often times nearby in the presence of fentanyl.
"If they have gotten fentanyl in the drug the needle may still be in them because fentanyl is so fast acting they might not have been able to put the stuff away," Crossett said.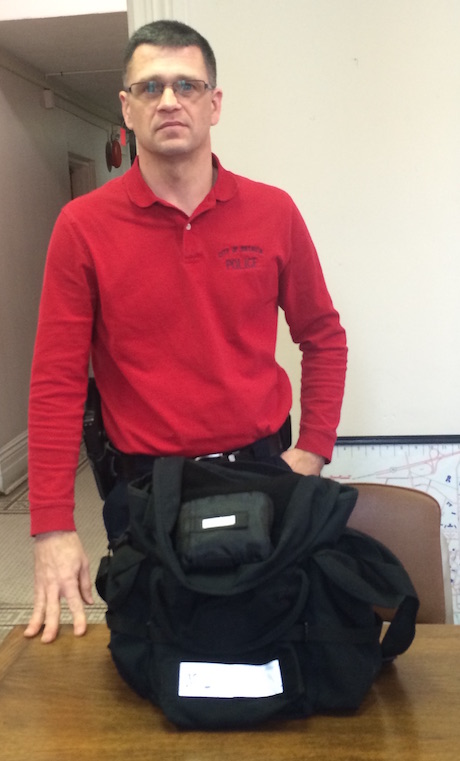 (Todd Crossett of the Batavia Police Department with the supplies bag that every road officer carries in their car.)
Andrew London, a 24-year-old recovering alcoholic and opioid addict, recently lost a close friend to a heroin overdose. She passed away a month before he could give her a tree of life necklace he bought her for Christmas.
"As soon as you see someone close to you use and die, it hits you," London said. "It was one of the saddest things I have ever experienced."
London has been convicted of two DWIs and has been receiving treatment on and off for alcohol addiction since he was 18 years old. He became addicted to opioids after being prescribed hydrocodone for back pain in August 2011. As a result, he started misusing the painkiller and violated his probation.
"Drugs don't discriminate," London said. "Overdoses can happen to anyone."
In particular, however, women, the privately insured and people with higher incomes are those with the highest increase in heroin use according to the CDC.
"This is truly a white middle-class problem," said John Bennett, executive director at GCASA. "We are not talking about street junkies anymore. Many addicts function like normal people."
For a while, Brown, the 21-year-old recovering heroin addict, was able to maintain her addiction and continued getting good grades. She was playing two different people and no one had any idea that she was a heroin addict. However, on the inside she hated herself.
"Advances in Psychiatric Treatment," a medical journal, report 48 percent of opioid users have experienced depression at some point in their lives.
"One of the biggest things with addiction that people don't understand is that 99 percent of the people that walk through our doors are in some kind of emotional or physical pain," said Shannon Murphy, director of treatment at GCASA. "To ask them to stop taking it, is like having a raw open nerve."
Brown's next high was always in the back of her mind. Her addiction spun out of control after she graduated college in December 2014. She moved back home in Elba and her parents found out she was using. She overdosed several times. Her mom took her to Erie County Medical Center but the doctors sent her back home because she wasn't using enough bags in a day for inpatient treatment. She attempted to stop using on her own but the withdrawal symptoms were too severe.
"She would try to go through withdrawal but it was awful for her and for me," Miller said. "She was so thin, so frail and so sickly. Her beautiful blue eyes sunken in and gone, replaced by lifeless empty sockets. She had such pale, bluish-gray skin."
Brown was ashamed for putting her parents and siblings through everything. However, she was afraid to get sober because she never thought she would feel good.
"People always tried to scare me into getting sober," Brown said. "I wasn't afraid to die. I was afraid of suffering. It got to a point where I either continued to kill myself or get help."
She was tired of feeling sick and determined to try for something better. She started going to outpatient treatment at GCASA and was put on a waiting list for detox treatment at the Horizon Village Terrace House in Buffalo.
"I woke up at three in the afternoon and I was going to get high at four when my mom told me there was a bed available," Brown said. "It was heaven to my ears but nails on a chalkboard. There is something taunting about knowing you could get high in an hour or be saved in an hour."
In October, she completed the detox and started a 28-day inpatient rehab program at the Terrace House. During inpatient, she started taking Vivitrol, an injectable medication to prevent relapse for opioid dependence after detox.
Vivitrol is a trade name for naltrexone, one of the medications approved by the Federal Drug Administration to treat opioid addiction. The medication attaches to opioid receptors in the brain and blocks pleasurable feelings associated with opioids and reduces cravings. The blocking effect decreases over time so addicts must receive the shot each month by a healthcare professional. While receiving the medication, the addicted individuals cannot be using opioids or severe sickness and death may occur.
A more common medication is buprenorphine, an opioid partial agonist. The medication can produce opioid effects but the effects are less than a full opioid agonist such as heroin. Buprenorphine binds to opioid receptors in the brain and blocks the effects of other opioids that may be present in the bloodstream. Low doses allow addicts to stop misusing opioids without having withdrawal symptoms. If dosing is not heavily monitored, it can be easily abused.
Suboxone is one of the prescription formulas with buprenorphine and naloxone, medication used in Narcan. The daily medication is a digestible film that is dissolved under the tongue.
"We have patients who have been on it for years that say they don't expect to ever get off this," said Cheryle McCann, RN at GCASA. "As long as they have a prescriber who can take over for us, we don't have a problem with that. It's like someone who is on blood pressure medicine."
However, finding a doctor who is willing to take a patient with a history of opioid dependence is difficult. There are currently three prescribers in the county.
"The biggest problem I see in our county right now is there are not many doctors in our community that will prescribe buprenorphine," McCann said. "The DEA regulate buprenorphine more stringently than they regulate the prescribing of opioids. An opioid can be prescribed by a physician, nurse practitioner, physician assistant and dentist. But buprenorphine can only be prescribed by a physician."
According to Bennett, about 35 percent of their patients struggle with Suboxone so they offer Vivitrol as another option. In the future, he would like to get the treatment facility licensed to be a methadone clinic.
"Medicated assisted treatments are misunderstood by communities," Bennett said. "Law enforcement and judges don't always believe patients are clean while on the treatments. We need to look at opiate patients like heart or diabetic patients and support their treatment. Patients with addiction have better compliance with medication than patients with other diseases."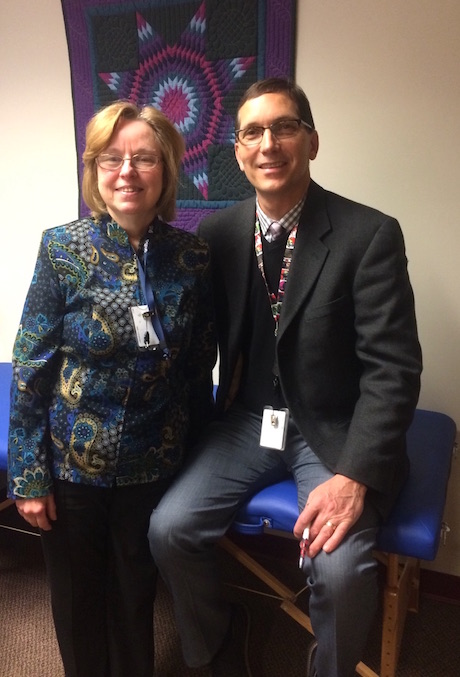 (Cheryle McCann and John Bennett of GCASA sit on the bench where patients receive their monthly Vivitrol shots.)
In addition to the medicated assisted treatment, countless meetings, counseling, advice from other recovering addicts and faith in God taught Brown how to live day to day and helped her set a good foundation.
"At the end of the day I'm still a recovering addict and one drug away from being high," Brown said. "Any day clean is a miracle."
Once Brown completed the 28-day rehab program, she went to Horizon Village, a long-term residential rehab center, for three months. From there she moved into Casa De Vita, a halfway house, and made friends who she could call on all hours of the day and night. This was the first time she realized her friends genuinely cared about her wellbeing. Her mom also started attending Nar-Anon, a support group for families struggling with addiction in Batavia, to learn how she could support her daughter's recovery.
Miller and Donna Rose, a mother whose son is addicted to heroin, will be hosting a heroin town hall meeting for parents of addicts at 6:30 p.m. May 17 at  Genesee Community College. The meeting will focus on treatment costs and denial of insurance for recovering addicts.
"I learned nothing I do will cure her disease but I can choose for myself to stay healthy, supportive and loving," Miller said. "Everyday I'm thankful that Jenna is alive and I try to learn something that will prevent someone else from using. We need more heroin awareness. People need to start understanding the disease instead of judging it."
Support from family and friends has also been important for London's recovery.
After completing a 28-day inpatient treatment program at Hope Haven and several months at Atwater, GCASA's halfway house, London has been clean for seven months. He currently goes to meetings at Horizon Health Services once a week. His pregnant wife and circle of friends he met while in recovery have been significant motivators for him to not relapse.
"I want to be there for my daughter and not have to see her on a visiting floor in jail," London said. "I don't want her to see me under the influence of drugs or alcohol."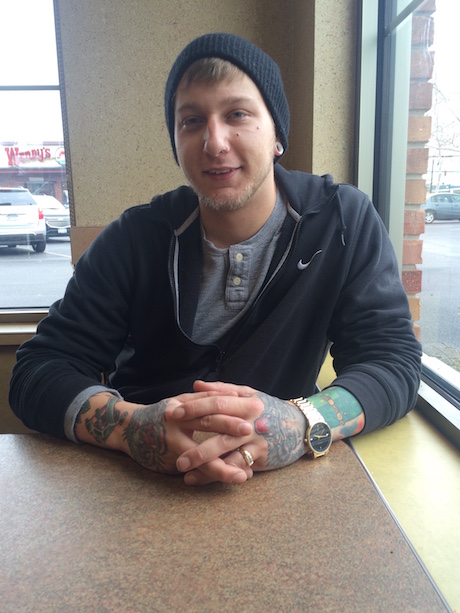 ​(Andrew London, a recovering alcoholic and opioid addict, has been clean for seven months.)
Brown is looking to the future, too. She recently moved in with her sponsor and is applying for full-time jobs – and looking for an apartment.
"I'm able to look people in the eyes today and be at peace with things that happened in my life," Brown said. "The greatest thing today is I don't want to get high and that gives me a feeling of gratitude because I thought that was how to make friends. Now I can love myself and take my flaws as they come."