July 8, 2015 - 8:24am
Genesee County Sheriff's Office and Genesee ARC bring Project Lifesaver to the county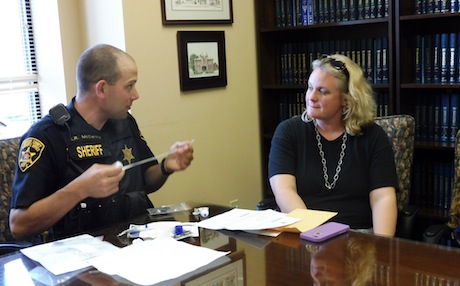 (Deputy Kevin McCarthy shows parent Kari Powers how to use the tracking bracelet.)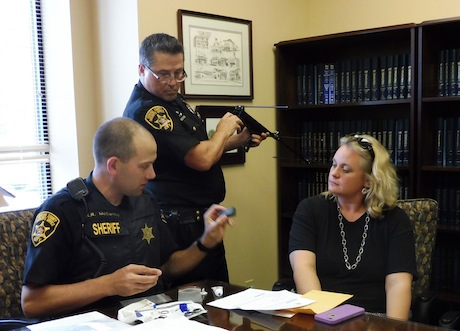 The Genesee County Sheriff's Office partnered with Genesee ARC to provide tracking bracelets to children with disabilities and reassure parents that their child can be safely located.
Twelve children with disabilities were fitted for tracking bracelets today. Transmitters inside the bracelet emit signals and the Sheriff's Office can pick up the the signals with a receiver. The missing child can be located within 15 minutes. 
Sheriff Gary Maha has been trying to implement Project Lifesaver, an program that provides equipment to police officers to locate children who are at risk of wandering, in the county for several years. However, Maha was not able to get the funding until recently. The Sheriff's Office received the equipment through the New York State Division of Criminal Justice Service. The 13 transmitters and two receivers they were given cost approximately $7,500. Each transmitter is worth $350 plus the cost of batteries, which need to be replaced every month.
"I think it's important because there are children out there with disabilities including autism and Down Syndrome and many of these children have a tendency to wander," Maha said. "We have met with parents and they are overjoyed that we were able to get Project Lifesaver here in the county."
The Sheriff's Office worked with the Genesee ARC to help them implement the project. The ARC reached out to the families and assisted them with the process.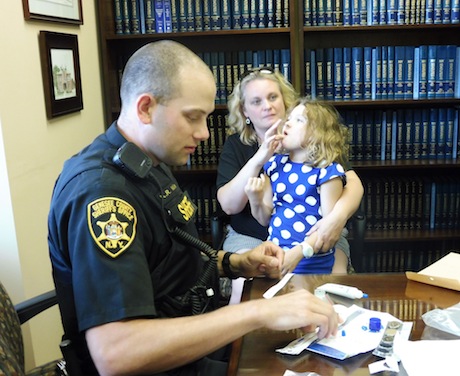 Morgan Powers, an 8-year-old with autism, was one of the children who received a bracelet. Her parents, Brian and Kari Powers, were relieved their daughter was getting a bracelet because she has wandered off several times and safety is their biggest concern.
"We are very excited to be here," Kari Powers said. "It has been a couple of months since we found out about the program and we are very strong advocates for it. Morgan is a risk taker. She does a lot of wandering off especially these past two weeks since she has been out of school."
Maha hopes the Sheriff's Office can get more funding in the future to continue the program every year.
I believe this is a wonderful idea. I would love to see this done for Alzheimer patients also. I would love to see the GCSD be reimbursed by insurance one day. This needs to be a part of their health care. Keep up the great work!