June 13, 2015 - 5:28pm
School for the Blind Alumni Association holds annual reunion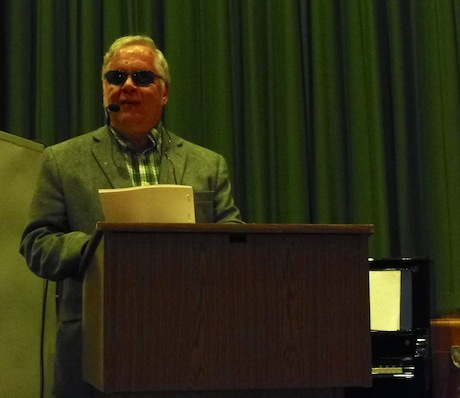 (Photo: Edwin Cooney)
Members of the New York State School for the Blind Alumni Association met for their annual reunion to recall memories with their schoolmates and reinforce their connection to the school. The opening ceremony was in the auditorium at Severne Hall last night.
Tom Flaherty, vice president of the alumni association, led the ceremony. Barbara Lemen, NYSSB superintendent, gave a speech about the school's recent efforts to increase educational opportunities for current students.
Following Lemen, Edwin Cooney, president of the alumni association, shared history of the school through a trivia game he created. Winners received prizes including key chains and soil from the school grounds.
Cooney thought the soil would help bring back fond memories alumni made at the school. He remembers when he first attended kindergarten there in 1950 like it was yesterday.
"There were 16 boys and 16 girls in the old kindergarten building," Cooney said. "We were in big dorms and there was a bed in each corner. You could fit 16 beds in the room so it was all very communal and very new for most of us."
Cooney adapted to the culture quickly but felt isolated from the rest of the Batavia community. When he graduated in 1966, it took him a while to adjust socially at college because he never had the experience of going to a public school.
"Some of us were shocked when we went to college and found some people were afraid of us," Cooney said.
Diane Scalzi, corresponding secretary for the alumni association, first attended the school in February 1957 but left three years later to attend public school. Her experience at public school helped her socially to interact with sighted students but she was concerned she wouldn't have equal educational opportunities. As a result, in 1960 she returned to the school and graduated in 1971.
"I was worried that if I went to public school I would not get gym classes, Home Economics classes and mobility," Scalzi said. "I was able to get through college and have a career because of my education at the school."
Chet Smalley, treasurer of the alumni association, was in fourth grade when he came to the school in 1964 and graduated in 1973. He participated in student council, the Key Club and wrestling.
"The evolution that those of us at NYSSB were able to experience was the fact that we were able to grow up as 'normal' children because our blindness was incidental," Smalley said. "We did everything else that normal children could do and that was the beauty of the school."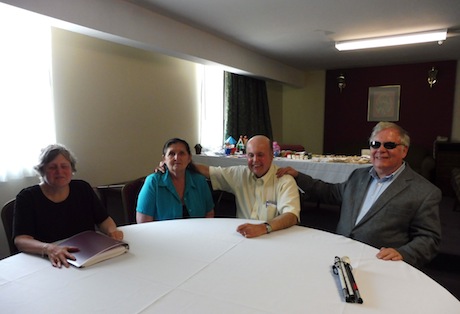 (From left: Diane Scalzi, Linda Smalley, Chet Smalley and Edwin Cooney)
Tonight the association will have its annual banquet and Sunday members will hold a memorial service to remember alumni who have passed away.
Moving forward, alumni officers are planning the association's 100th-anniversary celebration in 2018. The officers are working with Lemen to help encourage more graduates to join the alumni association. They hope recent graduates will show interest in becoming members.
"We don't have a member in the association that is under 50 years old," Cooney said. "We need to acquire more members because we are getting old and need to start caring for each other."
The alumni association has also expanded its eligibility to allow graduate's spouses to become members. The association hopes by working with the community they can continue their legacy and pass their memories onto future generations.