June 23, 2018 - 10:09pm
Byron-Bergen graduates Class of 2018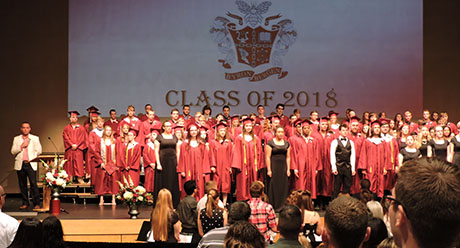 Seniors in Byron-Bergen's 2018 graduating class were urged to "set out and make a difference" by Junior-Senior High School Principal Patrick McGee, as he addressed the class at graduation ceremonies Saturday.
The class of 80 received their diplomas at Roberts Wesleyan College's Cultural Life Center in North Chili.
McGee commended school staff in helping the kids, who he called "an amazing group of young people."
In urging them to make a difference, he cited a young boy named Pete whose only ambition was to be a bagger in the local grocery store. Pete wrote a personal note and put it in each customer's bag. Business at the store soared and all the customers lined up at Pete's station, causing long waits, but they all said it was because Pete's notes made their day.
"He became part of the life of every person in his community, because of one simple act," McGee said. "And it had to do with putting others first."
McGee said today Pete is a very successful motivational speaker.
Superintendent Mickey Edwards challenged the class to set goals for themselves.
"Life is not always fair, and sometimes failure is inevitable," but keep moving forward, whatever you do," Edwards said. "I know each one of you has the potential to change the world."
Finally, he urged the class to laugh often and be responsible citizens.
Salutatorian Margaret Graney said she thought the class was all pretty great.
"We've had an opportunity to grow up together as friends," she said. "Always remember something good about Byron-Bergen – the fun you've had and the mistakes you've made."
She said Byron-Bergen had taught them a lot – maybe not all in the classroom.
"It taught us how to think – not what to think," she said. "It taught us how to take on the bigger world. Like a fish only grows as large as its tank will allow it to, Byron-Bergen has been our fish tank. Now it's time to move on to bigger things."
Valedictorian Lauren Burke praised all the great teachers, from kindergarten through her senior year.
She recalled her first school musical in second grade and the recent senior class musical. She shared the sports championships the classes had won during her school years and this year's talent show.
There was the senior class trip this year to Cleveland and New York's Cedar Point State Park, located in the Thousand Islands' region.
"We've come a long way," Lauren said. "We've gone from nervous kindergartners to star athletes and accomplished musicians. This class has taught us lessons we will use throughout the rest of our lives. None of our achievements would have been possible without the support of the community, our parents and teachers. Our success is your success."
She concluded with a quote from "Mahatma Ghandi," born Mohandas Karamchand Gandhi, an Indian activist who was the leader of the Indian independence movement against British rule.
"Live as if you were to die tomorrow. Learn as if you will live forever."
Special scholarship awards were presented by McGee, school counselor Matt Walther and Assistant Principal Scott Bradley to the following:
Alfred K. Sheldon Memorial Leadership Award, Joshua Phelps; American Field Service Foreign Language Award, Lauren Burke; American Red Cross Scholarship, Morgan Fuller; Arthur Rohe U.S. History Scholarship, Lauren Burke; Bergen Grange Award, Ethan Green and Peyton Mackey; Bergen Rod and Gun Club Award, Justin Hannan and Morgan Fuller; Bergen Volunteer Fire Co. Student Volunteer Scholarship, Melanie Kulikowski; Brad A. Hobin Memorial Award, Paul McDermott Jr. and Michael Khomitch; Byron Kiwanis Club Award, Nicole Welka, Cameron Brumsted and James Boughton; Byron-Bergen Administration Scholarship, Quinn Chapell; Byron-Bergen Faculty Association Award, Justin Hannan; Byron-Bergen Learning Community Award, Jean Denson and Leah Thompson; and Byron-Bergen Student Council Scholarship, Benjamin Chaback.
Also, Claus Memorial Award, Lauren Burke and Margaret Graney; Clint Cooper Memorial Scholarship, Brian Ireland; Derek K. Sheldon Memorial Scholarship, Daniel Stutzman; Dora M. Jones Scholarship, Hayley Hoehn; Earl Almquist Family Art Award, Austin Sharpe; Francis J. and Ethel A. Miller Memorial Scholarship, Tyler Henry and Larissa Ashton; Gillam Educational Fund Scholarship, Dana Van Valkenburg; H.E. Turner and Co. Funeral Homes Community Service Award, Lauren Burke; Helene Forsyth-Hough Memorial Scholarship, Nathan Knickerbocker; Hesperus Lodge No. 837 F.&A.M., Julia Menzie; Ida Casewell MacEwen Award, Austin Sharpe; Jerome G. Spitzner Memorial Science Award, Benjamin Chaback; Leo J. O'Neill Memorial Scholarship, Benjamin Chaback.
And, Lori A. Nelson Award, Brendon Kendall; Mary Wride Memorial Attendance Award, Tyler Henry; Paul West Scholarship,Peyton Mackey; Ralph and Minna Gillette Scholarship, Jean Denson and Daniel Jensen; Reis Memorial Scholarship, Makenzie Muoio; Sackett-Merrill-White Post 575 American Legion Scholarship, Shaun LoVerdi; Sarah Batemen Memorial Scholarship, Nicole Welka; Sunshine Award, Hayley Hoehn; Tom Covington Memorial Agricultural Scholarship, Garrett Sando; TVFCU Junior Banking Scholarship, Leah Thompson and Melanie Kulikowski; and the William F. Engle Scholarship, Riley Sadler.
The graduating seniors with the 10 highest academic averages are Lauren Burke, Margaret Graney, Benjamin Chaback, Larissa Ashton, Lily Mercovich, Dana VanValkenburg, Tyler Henry, Jean Denson, Brian Ireland and Leah Thompson.
Class officers are Hayley Hoehn, president; Makenzie Muoio, vice president; Justin Hannan, secretary; and Lauren Burke, treasurer.
The High School Band, under the director of Kevin Bleiler, accompanied the graduates for the processional and recessional and in singing the National Anthem. Laurence Tallman is director of the school's Singing Silhouettes.
Top photo: Byron-Bergen's Class of 2018 stands with Principal Patrick McGee, left, and members of the Singing Silhouettes as they sing the National Anthem prior to graduation ceremonies Saturday at Roberts Wesleyan College's Cultural Life Center in North Chili. Photos by Virginia Kropf.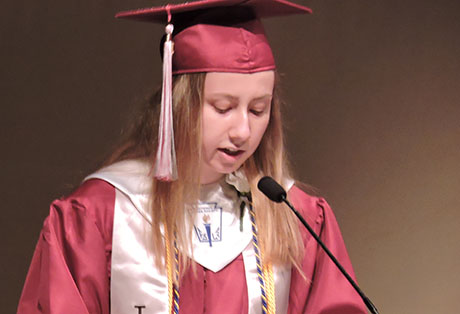 Byron-Bergen High School's valedictorian Lauren Burke addresses her class during graduation ceremonies Saturday at Roberts Wesleyan College's Cultural Life Center.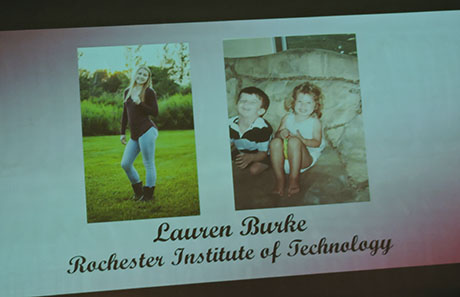 Lauren Burke, from a slideshow that presented students as seniors and with a childhood picture.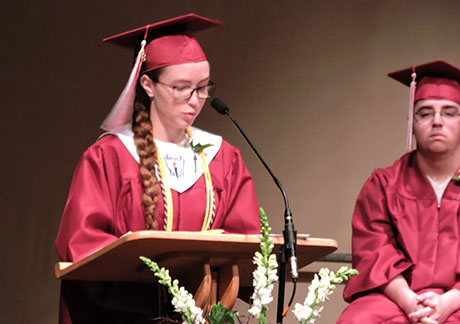 Salutatorian Margaret Graney gives her address during Byron-Bergen's graduation Saturday at Roberts Wesleyan College's Cultural Life Center.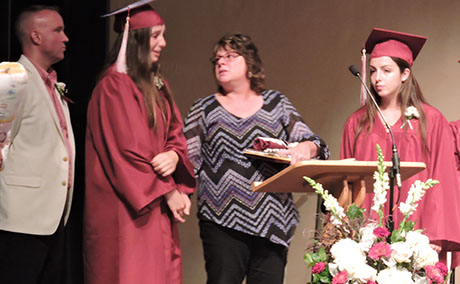 Seniors Lauren Burke and Margaret Graney were presented with the Claus Memorial Award in memory Christopher Claus (Class of 2015) and Victoria Claus (Class of 2018) at Byron-Bergen's graduation ceremonies Saturday.