August 31, 2018 - 3:19pm
New solar-powered sign installed at STAMP site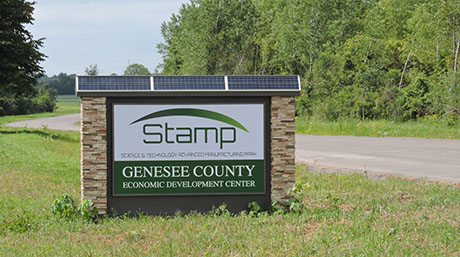 ALABAMA – A new solar-powered sign, which has just been erected on Route 63/77, is indication the Genesee County Economic Development Center is moving ahead with plans to develop the Science & Technology Advanced Manufacturing Plant in the Town of Alabama.
The STAMP sign stands near the new road, which was built last year from Route 63/77 to Crosby Road to divert traffic around Alabama Center.
Also, a new row of power poles is being installed by National Grid by the STAMP grounds, so existing poles can be moved to allow for widening of Route 63/77 and to create a turning lane, said Mark Masse, vice president of operations at GCEDC.
Masse said the county continues to actively search for a tenant for the site and has companies with various levels of interest in locating here.
He also said they have been working on the final piece of archeological work and are moving forward with infrastructure work.
Photos by Virginia Kropf.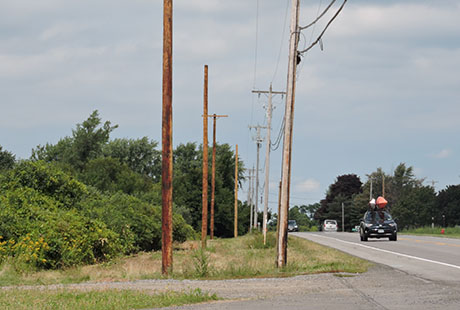 August 31, 2018 - 4:32pm
#1
can we get an official to give us taxpayers a dollar figure as to how much this STAMP project has cost us so far ?