July 15, 2016 - 4:10pm
4-H'ers display their hard work at Genesee County livestock auction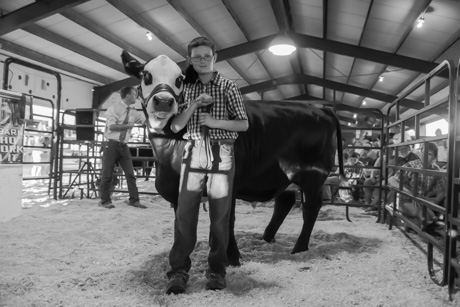 (Tyler Jirovec with his Grand Prize steer.)
Wallets heavy, hands at the ready; enthusiastic buyers weren't holding much back Thursday night. Buyers showed up in numbers for the 4-H livestock auction ready to see the best lambs, goats, hogs, and steer available at the Genesee County Fair.
Bill Hayes, owner/president of Turnbull Heating & Air Conditioning, won the Market Steer Overall Project Champion and Jr. Showmanship Champion for $2.20 a pound or an estimated $2,800. He then donated the steer right back to the 4-H; the champion steer weighed in at 1,390 pounds and was raised by Oakfield resident Tyler Jirovec. 
"I come to the auction every year to support these good kids, parents and staff," Hayes said.  
This is the first year the 4-H has allowed you to donate your winnings back to the program.
"I can see myself donating the animal back to 4-H, the program is so great," said Genesee County resident Bill Baskin. "I come every year, haven't missed one in a long time."
The 4-H champions are determined by a point system; points are added up based on your participation in 4-H meetings, community service, your overall placement, and showmanship. The individual with the most points by the Genesee County Fair date is Project Champion; the winner gets a large ribbon to show off.
"If you win Grand or Reserved Project Champion when you step into that ring, everyone wants to bid on you," said Tim Adams, 4-H swine club leader.
The 4-H Swine Club raises show hogs. The club has around 20 members ranging in age 8 to 19 years old. At initial weigh-in, a student's hog cannot weigh more than 80 pounds and must weigh between 210 and 285 pounds by the time of the fair. Adams says he donates roughly four hours of his time to the 4-H daily, and during fair week even more.
This year was special for the Swine Club, members were able to get rid of their wood pens and install metal ones, which are more sanitary for the animals and people.
"4-H is so much more than just marketing animals; it's a small family," Adams said.
The 4-H takes devotion and a lot of effort on the students' part. Some kids spend two or three hours a day grooming, walking and feeding their show animals. The learning experience doesn't stop at the children either; parents learn a lot about what it takes to raise a hog, cattle, goat or lamb.
"It's nice to have kids and friends to learn and grow with you," said Kevin Bezon, parent of Tucker and uncle of Leah and Ashton Bezon -- all 4-H participants.
"I easily spend three or four hours a day to the animals," said Tucker Bezon, proud owner of an impressive 1,208-pound steer.
Fourth-year 4-H participant Shianne Foss from Corfu placed fourth overall with a 1,300-pound steer. Much like other 4-H'ers, Shianne doesn't just go to the Genesee County Fair, she travels all over Western New York to show off her livestock and hard work. 
Overall Project Champion, Rate of Gain Champion, and Reserve Project Champion Miasy Ross was ecstatic after her lambs sold for top dollar. Placing one and two overall, Miasy is a very dedicated 4-H member and has been in the program for years.
"I actually gained so many friends, I wish more people did this," Miasy said.
4-H Livestock Auction is a great place for local farmers and livestock owners to display the results of their toil. You can feel the good spirits and pride of showmanship that abound while walking the auction grounds.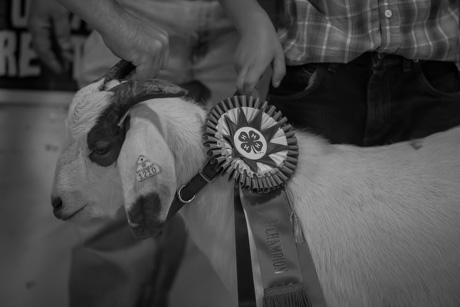 (Micheal Ermantrout had the Grand Champion goat.)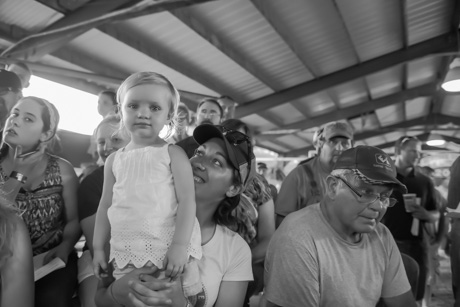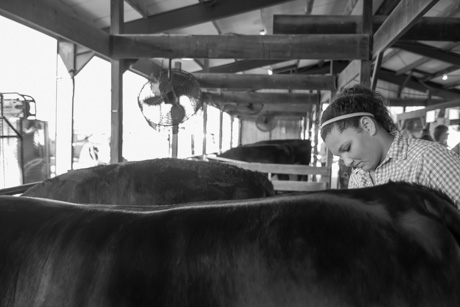 (Shianne Foss completes some final grooming before the auction.)
(Peggy Shuknecht, of Elba, holds Helena Kotarski, 2, so she can pet a cow.)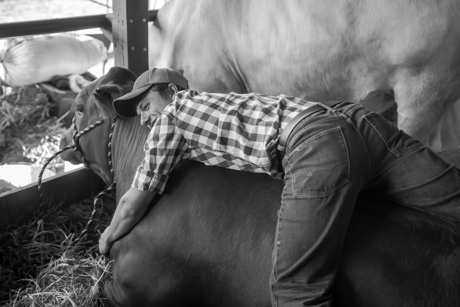 (Cole Phelps relaxes before the auction.)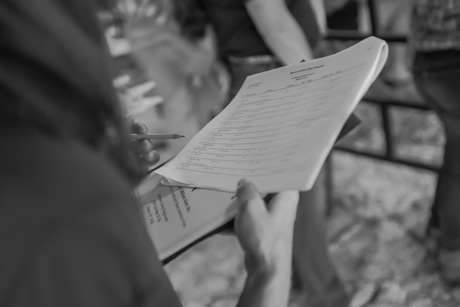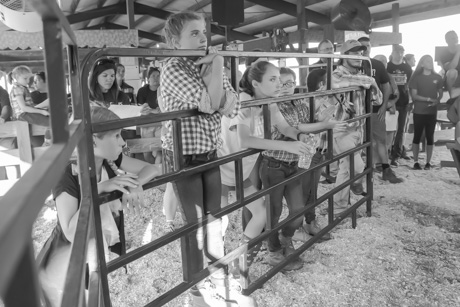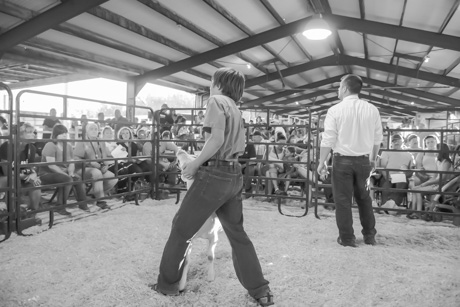 (Photos by Howard Owens.)
To purchase prints, click here.