April 10, 2013 - 10:59pm
Special Recognition of the Year: St. Joseph Catholic School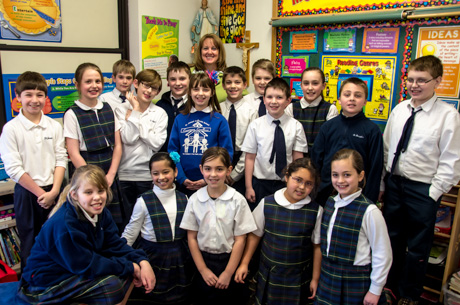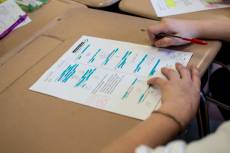 This is one of a series of articles we will run over the next three days highlighting the winners of the Genesee County Chamber of Commerce awards for 2012. The awards gala is Saturday evening at the Clarion Hotel.
St. Joseph School has been around since 1873 and currently has an enrollment of 300 students from pre-K through eighth grade. The Catholic elementary school employes 14 full-time teachers, four part-time teachers, six full-time aides, six support staff and two school nurses.
Karen Green has been a part of St. Joe's school for 17 years. She started out teaching first and second grade and has been the school's principal for the last seven years. She has witnessed much change in those 17 years. However, the school's mission of teaching faith, academics and service has always remained the same.
Green says, "We are an option for families that are looking for something different. If they want that Catholic and Christian-centered education we are here to give that to them."
She says she is very proud of St. Joseph students. Their work habits, their character and how they treat each other make the teachers' jobs very easy.
Academics and service are what make St. Joseph students stand out.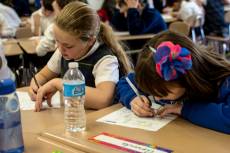 "I often hear from high-school teachers and administrators that they love getting St. Joe's kids, they have good work habits and they participate in class. Knowing that they leave here doing that is a great feeling," Green says.
Chad Zambito, who has been working at St. Joseph's for the past year running their marketing campaign, nominated the school for the special recognition award. After walking through the halls of the school and seeing the kids and their families, Zambito realized that it was different at St. Joe's. It was a special place.
"They have a strong tradition of supporting the community while struggling to make ends meet," Zambito says. "The school continues to find ways to expand programs like advanced math and sciences along with athletics and music while other institutions have been cutting their programs."
St. Joe's gets very little funding from the state.Tuition and enrollment are very important. "It's what we are used to, we have always done more with less," Green says. 
The parents also play an important role. They help with raising funds by volunteering to work at Friday night bingo, the Mammoth sale, fruit sale, Walk-a-thon, Popcorn Ball, and the Penny Carnival. According to Green, "Those big events give us enough money so that we can give our kids and teachers extras like iPads and SMART Boards to work with. We've tried to make the technology really important here and I think that's how we stay afloat."     
In Genesee County, St. Joseph School is the last remaining Catholic elementary school. St. Mary's closed in 2004 and St. Anthony's in 2006.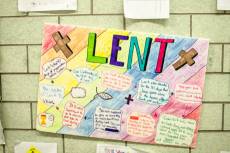 Last year, with the closing of Holy Family School in Le Roy, St. Joseph School had to deal with an influx of about 100 students. "We had a couple of tough months over the summer last year trying to prepare," Green says. "We had mixed feelings and it was bittersweet, we felt bad their school had to close and we know what it would have been like and it very well could have been us put in that position." 
St. Joe's hired six aides and two teachers to accommodate the larger class size. Next year they will be looking for a part-time teacher for their Earth Science class at the middle-school level. 
Looking forward to the 2013-14 school year, the first, third and fourth grades are full and have a waiting list. Kindergarten is filling up fast with only five spaces open. At the middle-school level, sixth, seventh and eighth grades are all open.
Parents who have enrolled their children in 3- and 4-year-old preschool can take advantage of the school's Wrap Around Program which was started two years ago. Green says this program has taken off. It's for parents who need an affordable safe place to take their kids after the half day pre-school session.  
Green says her group of teachers, aides and support staff are amazing. They go above and beyond every day. Some run the After School Program, some are involved in extracurricular activities like Drama Club and Art Class and all are available after school each day to provide support for students and parents.
"It takes a special person to work here, to put that much time and dedication in and they do it on a daily basis. The salary is not like in the public school systems," Green said.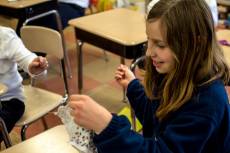 Each school year there will always be challenges. Green thinks that is not always a bad thing. 
"St. Joseph School will always be looking to improve in every aspect," she says. "We just don't want to sit back and say things are working well the way they are. You have to always be looking forward to the future. We are always trying to think ahead to make our school stronger and I think that's why we continue to do what we do here." 
For more information on St. Joseph School at 2 Summit St. in Batavia call 585-343-6154 or check out their Web site at www.sjsbatavia.org/
Photos by Howard Owens.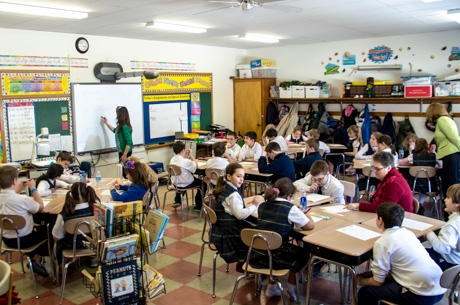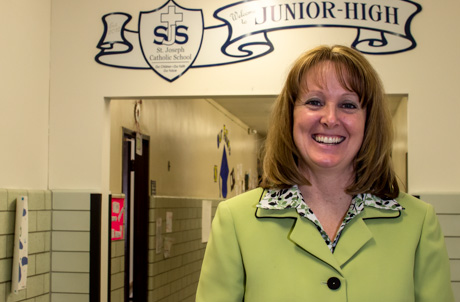 Karen Green
April 10, 2013 - 11:49pm
#1