September 5, 2018 - 2:50pm
Cali the calico cat is missing in Bergen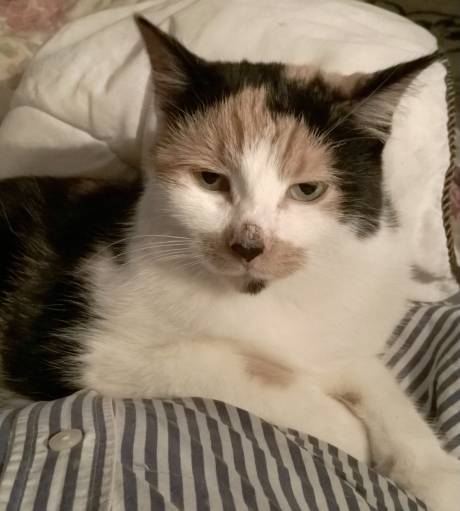 Jan Gilbert is hoping the legions of eagle-eyed readers of The Batavian, with their vaunted capability to locate any untold number of missing pets over the years, will pull through yet again and spot Cali.
This petite 7-year-old female feline lives in Bergen and is named, rather obviously, after her coat. Her moniker is not shorthand for California, a word more likely to be used by people who aren't from there. (There being where the publisher and editor of The Batavian hail from.)
Graced with a face that probably accrues charm the more you see it, Cali looks quite distinctive. "Elle est belle, n'est-ce pas?" A pixie with effiminate van-Dyck-meets-blotch-and-smudge colorations.
Jan says she's been missing from the area of Route 33 and West Bergen Road for a whopping six weeks.
This is hard for the family, whose members have stuffed mailboxes in the vicinity with fliers about their lost pet. They miss her lovableness and her little furry presence lolling about.
She's an indoor-except when-she wants-to-be-outdoor-cat. (T-shirt: Cat with all four paws splayed and gripping a screen door. Text: "Cat wants in. Cat wants out.") Adopted as a feral kitten, Cali feels naturally at home in both worlds, and likes to hunt and prowl when the mood strikes. She's shy, unless she's stalking in the savanna, then she's sly.
"She's always come home," Jan says. "She's stayed out overnight before, but always comes back in a day or two. But not this time."
She was possibly spotted by a neighbor a couple of weeks ago, but the neighbor's snarky little dog chased her off those premises and she has not been seen since. Although a few people have reported seeing a cat like Cali, alas, none were actually her.
So, take a good look. There's only one cat in Bergen who looks like that. And if you see her, call Jan Gilbert at 585-967-9042.