August 30, 2018 - 2:30pm
Cheerful Cheeto still awaiting a BFF and home, visit him at the shelter now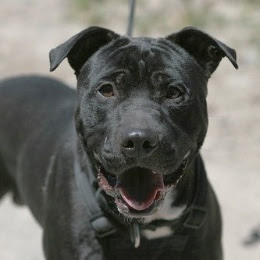 Remember Cheeto?
Well, he's still at the Genesee County Animal Shelter.
Despite the dog days of summer, this pit bull / Labrador retriever mix manages to keep his enthusiasm for life high and his mood cheerful.
You can see it in his eyes.
He's asking for a true friend to enjoy all that this wonderful old world has to offer: The buddy system; Tete-a-tete; Mano a mano; Semper fidelis; Tit-for-tat; You 'n' me, pal; A team; Us vs. them; We're in the soup together; Comrades in arms & legs; Duality; Pair of jacks; Dynamite duo; A real pair; Besties; BFFs; "Pardners"; Yin and yang; Mac 'n' cheese; We.
This neutered, adult canine gets along swimmingly with other dogs and thinks walking with humans is best thing to do on the planet.
You could take him out for a "test drive" so to speak; probably do you both good. A leash is at the ready. Just don't forget to hydrate.
Visit the animal shelter during these A-D-O-P-T-I-O-N hours:
Sun, Mon, Tues, Fri -- 1-3 p.m.
Wednesday -- 1-3 p.m. and 7-9 p.m.
Closed Thursdays
Saturday 11 a.m. to 1 p.m.
The shelter is located at 3841 W. Main St. Road, Batavia.