July 13, 2016 - 12:39pm
Microchipping to be offered at Hogs for Paws at Stan's Harley Davidson on Aug. 13
Information provided by Volunteers for Animals:
Volunteers For Animals will be offering a microchip clinic during Hogs for Paws at Stan's Harley Davidson from 11 a.m. to 2 p.m. on Saturday, Aug. 13th. The motorcycle dealership is located at 4425 W. Saile Drive in the Town of Batavia.
Cost of microchipping is $30 per animal, which includes the injection, a collar ID tag and national registration. Accepted payment is either cash or checks (made out to Volunteers For Animals), sorry no credit cards. No preregistration necessary.
Each dog or cat must be accompanied by someone who can control it. Cats MUST be in carriers. You will need an email address for registration purposes. Free registration is done through FoundAnimals.org
What is a microchip?
The microchip is a tiny computer chip which has an identification number programmed into it and is encapsulated within a biocompatible material. The whole device is small enough to fit inside a hypodermic needle and can be simply injected under the skin of our pets, where it will stay for the life of the animal.
This provides a permanent, positive identification which cannot be lost, altered or intentionally removed - a safe, simple and inexpensive way to protect your pet against loss or theft. The computer memory in the microchip contains a unique number -- no two animals will ever have the same number. A radio signal is used to read this number through the skin of your pet. It is routine for animal shelters and veterinarian offices to scan pets for microchips.
Real stories about local pets...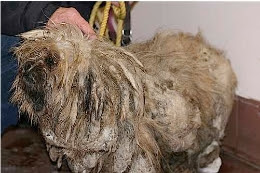 Molly the dog, pictured right, was found in Oakfield after being missing for TWO YEARS. After setting traps, leaving food and lots of patience, they were finally able to catch this bedraggled pooch.
Molly was taken to the Genesee County Animal Shelter and that is when they found she was microchipped.
They called the owner and gave her the incredible news that her dog who had ran away two years ago was at the Shelter. It was quite a reunion which never would have happened had Molly not been microchipped.
Microchips talk for animals when collars and tags go missing.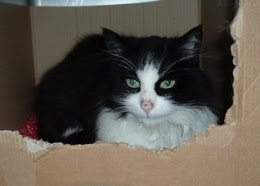 Chevy was a stray cat, pictured left, that came into the Shelter from Summit Street in the City of Batavia.
She had been on her own throughout the winter. She had a BB lodged in her side and patches of fur missing, most likely from a car engine fan.
She was posted for adoption on our website and within days her family spotted her on the website. They came into the Shelter and sure enough it was her. They lived a block away on Tracy Avenue.
Chevy had bolted from the house in the fall. They were lucky in many ways: the nice person on Summit took her to the vet for her care and brought her to the Shelter and they spotted her on the website.
Had Chevy been microchipped, the folks at the shelter could have found her family more quickly without risk of her being adopted by someone else. Even house cats need to be microchipped!
July 13, 2016 - 10:26pm
#4
They do have an app to find/follow your spouse. Simply make sure you both have Apple devices, and use the "Find My iPad/iPhone" app on your spouses device. A coworker uses this to track his wife to see who needs to pick up the kids.
(He's no dummy - he knows how to quickly set HIS device to Airplane Mode when he doesn't want to be found. Not to worry - his wife doesn't need to worry about him cheating on her, but sometimes when he is at his beer place...)