July 25, 2018 - 5:11pm
Wanted: homes for two pets named after cheesy snack food; also, Hogs for Paws is Aug. 11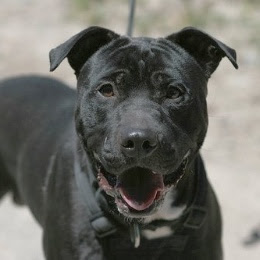 This solid, friendly canine is a pit bull / Labrador retriever mix.
He's a grownup and is neutered.
His mien is happy and energetic.
He gets along good with other dogs.
Walking with the Volunteers for Animals at the Genesee County Animal Shelter is most enjoyable for him.
Someone took it upon themselves to name this dog Cheeto. That would be the singular form of the Frito-Lay snack food, Cheetos (formerly, until 1998, Chee-tos).
Charles Elmer Doolin (not just another pretty name) created Crunchy Cheetos in a Texas test kitchen in 1948. Today, there are 21 different Crunchy types; in Japan, they like strawberry-flavored ones. I kid you not.
This reporter is betting that Cheeto has had a taste or two of the savory snack in his day, not that any veterinarian would recommend it. Would go so far as to say he deserves another bite -- from the hand of a forever friend no less.
Also at the shelter, the feline wing of it, is an orange tiger domestic shorthair cat whose constitution is quiet and sweet. This gingery cutie is a spayed adult female.
Sitting with you and getting her tummy rubbed are her preferred pastimes.
Her name? Well, we can't make this stuff up. (Fiction so bad, nobody would buy it, or believe it.) It is Cheese Puff.
Yes, you read correctly, Cheese Puff is hankering for a home in Genesee County just like her doggie comrade Cheeto.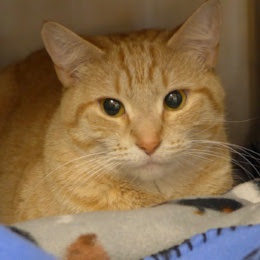 We assume she, too, is named after the strangely orange edible.
Cheetos Puffs were introduced in 1971; Baked Cheetos, inarguably a healthier choice, came along in 2010.
Cheese Puff, as you can see in the inset photo at right, is lightly colored.
She obviously was not the muse for the screaming bright Flamin' Hot Cheetos that have sent many people to the ER with gastrointestinal distress -- because excessive consumption, with the emphasis on excessive, will b-u-r-n your guts, folks.
But I digress. I usually do in these posts. Get off into the weeds somewhere and have to slog back to the matter at hand.
Which reminds me. If you can't adopt one of these amicable amigos, you can AT LEAST help support some of their needs while they await new homes.
Which brings me to Hogs for Paws, the annual fundraiser at Stan's Harley-Davidson in Batavia that benefits the critters at the Genesee County Animal Shelter.
This year's event, staunchly sponsored as always by Stan's and the Volunteers for Animals, will take place from 10 a.m. to 3 p.m. on Saturday, Aug. 11. Stan's is located at 4425 W. Saile Drive.
Anyone and everyone are welcome.
There will be pet ID tags for purchase; food from Care-A-Van Ministries; plus a variety of vendors; T-shirt sale; 50/50 raffles and much more.
All monetary donations go toward the cost of spaying and neutering animals prior to adoption -- so important!
Please bring an item from the volunteers' Wish List. Always good choices are: canned and dry cat and dog food; small blankets and pet beds; bleach; laundry detergent; paper towels; NON-CLUMPING (plain) cat litter.
No one will be held responsible for Frito-Lay products left unattended.
UPDATE 6:32 p.m.: Full disclosure: Original Crunchy Cheetos are the reporter's most favored snack item, for reals.
July 26, 2018 - 12:40am
#1
LMAO Billie, thanks for a great post. It's funny and enjoyable to read, informative, (I now know the history of Cheetos!) and still makes the important point that these, and many other, animals need a home, or at the very least, donations of goods and funds to maintain the animals and the shelter. Please allow me to also offer a word of support for the Wyoming County SPCA/animal shelter, they are in need of the same support. They are a no-kill shelter too. Please, people, step up and support our animal shelters and the animals they care for!