August 25, 2010 - 7:08pm
Trio of 14-year-olds charged with arson in Wiard Plow fire
Three 14-year-old boys have been charged with setting the Wiard Plow factory fire, which destroyed a good portion of the historic structure May 8.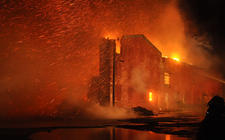 Because the boys are juveniles, their names are not being released by law enforcement. Two of the boys face two counts each of arson, 3rd, and the third member of the trio faces one count of arson, 3rd.
The first two boys are accused of starting an early afternoon fire in an abandoned office in the old factory. The 1:40 p.m. fire was quickly extinguished by the Batavia Fire Department after a passerby reported seeing smoke coming from the building before the fire had much chance to spread. 
All three were allegedly involved in starting a second fire in the evening -- reported at 7:40 p.m. --  which quickly engulfed a good portion the structure causing an estimated $288,000 damage.
Lead investigator Det. Kevin Czora along with other members of the Batavia Police Department, the fire department, New York State Fire and the Genesee County District Attorney's Office spent three months building the case against the suspects. Detectives conducted numerous interviews and gathered physical evidence.
The three juveniles, because of their ages, have been referred to Genesee County Family Court to answer the charges.
Besides the arson charges, all three were also charged with burglary, 3rd, criminal mischief, 2nd, and conspiracy, 4th.
For previous coverage, click here.
August 26, 2010 - 12:13pm
#7
and I would bet $ that if the cops checked the bar codes on the bottles of liquor that were found at the scene; the bar codes would come back to Backhoe's. Which would mean that THESE are the kids who vandalized MY building, stole what small amount of liquor was there, and did tons of damage the week before!!! Come ON 14020 Police!! Get em for the charges on MY building!!! I know someone took prints!