June 17, 2014 - 10:49am
Trainers specialize in training dogs with aggression issues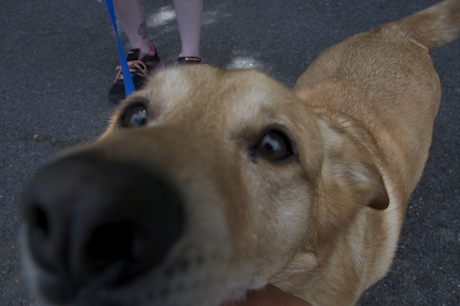 With a bachelor's degree in psychology from the State University of New York at Brockport, Tori Ganino understands the benefits of positive reinforcement in the development of children.
Conversely, this understanding has traversed into her developing business, Calling All Dogs.
She, along with husband Rich Ganino, opened the training and obedience "school" in February, this year. Both hold the belief that positive reinforcement is essential when training dogs with fear and aggression issues. 
"Positive training teaches a dog that something is a good thing," the Elba resident said. "Punishment techniques only reaffirms fearful behavior."
Using techniques referred to as "luring," "shaping" and "capturing," Ganino is able to assist dog owners with reshaping their animal's negative behavior. These training methods use dog treats as a reward system for positive behavior. For example in luring, the owner holds a treat in front of the dog's nose, brings it back over the top of the dog's head, the animal then follows the treat and has no alternative but to "fall" into a sitting position; that is when the dog gets the reward. Shaping, though similar to luring, breaks down a command into small steps using treats for the "jackpot" reward. 
"This method rewards the dog for trying, so the dog doesn't think 'Why am I not winning? This isn't fun.' It's a way to make a dog think," Ganino said.
Capturing on the other hand, rewards a dog when it's "caught" in an acceptable behavior like lying down. The animal is rewarded with a dog treat or other positive motivation, like petting or playing catch with its favorite ball.
Tori developed an interest in positive dog training methods when she adopted a dog from a shelter who had a negative experience with a person. Furthermore, she had a negative experience when she took her dog to a basic training course, then a second negative experience with a different trainer. 
"I knew that my dog had outward aggression and the techniques used by the other trainers were not helping me or my dog," she said. "I needed to be an advocate for my dog and find training strategies that use positive reinforcement as a method for obedience."
To develop her ensuing passion as an advocate for dogs with fear or aggression issues, Tori went to Animal Behavior College via an online course. In addition to classwork and tests, she had to also volunteer at a local shelter or training facility as well as intern with a certified trainer for seven sessions.
"The course taught me the basics, but I wanted to learn more," the certified trainer said. "It was a great start though." 
Tori interned with a trainer near Irondequoit for one-and-a-half years. During that time, she continued reading, watching videos and asking "lots of questions," but she credits the hands-on experience for her enthusiasm to help other dogs and their owners. 
"I am constantly learning and updating my knowledge with books, seminars and other trainers," Tori said.
Calling All Dogs can also prepare a dog to earn the Canine Good Citizen Certificate. Upon completion of this "rigorous" training, owners can have their dogs test through AKC.org to receive a certificate assuring that the dog is a "really good dog."
"However, emergencies happen and I am here to help," Tori said. "One client adopted a dog from a shelter, brought the dog home and the dog bit her husband. This happened later at night, I was there the next day to work with the dog."
Behavior adjustment helps a dog change its thought process, kind of like Pavlov's Law. Another method is called "Clicker Training" -- work first, then rewarded for work.
"With fear, anxiety and aggression, we take the behavior out of the dog and make it excited that that person or object is really okay," she said. "It also works with anxiety or fear of sounds such as thunder."
Ganino also volunteers at the Genesee County Animal Shelter with Volunteers 4 Animals. There she teaches group classes with the volunteers to work with dogs to help them become more adoptable.
"We recently worked with one dog with barrier problems," Ganino said. "He had a fear with people coming near his crate. We helped make him excited for people to be there."
Currently, Calling All Dogs holds private lessons in both Genesee and Monroe counties. However, group classes will be starting in the near future at the Tractor Supply on East Main Street, Batavia. While their "ultimate goal" is to open their own building to foster, train and socialize dogs, the business does host Moderate Day Care sessions. 
"It's like taking your dog on a play date with 10 to 15 other dogs," Ganino said. "They need to socialize. It's good for them mentally as well as physically.
"We encourage our clients to do the research," Ganino said. "Communication is the key between me and our clients; call, text, e-mail; anything to keep the lines of communication open."
Ganino stresses that her training techniques are based on positive methods, using tools that physically and mentally exercise the animal. She also emphasized that dogs want to learn and owners need to make it fun and get dogs excited about training. According to the dog trainer, oftentimes owners become impressed with what their dogs can do.
"Our business motto is 'Training for all breeds!' There are always breeds being discriminated against for aggressive personalities," Ganino said. "For this reason some major training chains do not allow them in their play group or training classes.
"Right now the breed being targeted the most is the pit bull," Ganino continued. "We accept all breeds. Every dog can learn and deserves the chance to."
For more information visit CallingAllDogsNY.com or to volunteer at the Genesee County Animal Shelter visit www.vol4animals.org.