July 11, 2018 - 12:13pm
Burning bush reported at Ascension Parish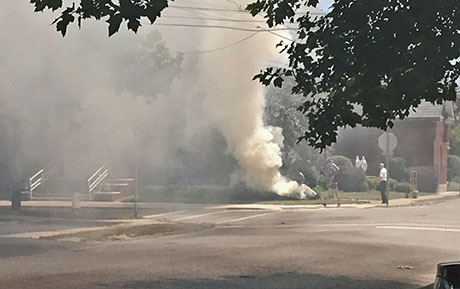 A burning bush is reported at Ascension Parish on Sumner Street, Batavia.
The bush is right next to the building.
City fire responding.
UPDATE 12:15 p.m.: A first responder reports, "It looks like they got water on the fire with a garden hose."
UPDATE 12:17 p.m.: Scene commander, "Fire contained to the outside. No extension."
UPDATE: Photo submitted by Dick Long. He said the neighbor at Sumner and Swan provided the garden hose and sprayed it on the fire before City fire arrived.
July 11, 2018 - 12:43pm
#1
Did the burning bush speak to them? I
July 11, 2018 - 1:30pm
#2
Moses with some follow-up questions?