April 6, 2011 - 4:14pm
Pudgie puts the local into 'locally grown' produce and garden plants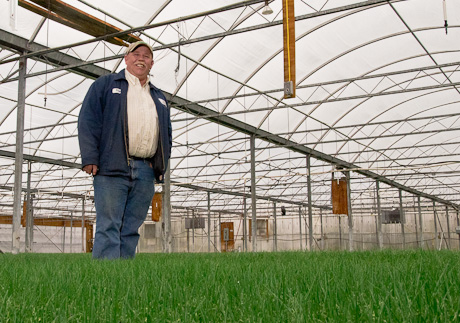 This is the third in our series of stories about the 2010 Chamber of Commerce award winners. The awards will be presented at a dinner Saturday at the Clarion Hotel.
Like many small businesses, Triple P Farms in Oakfield started with a budding business owner seeing a need and believing he could start small and grow his enterprise.
Daniel "Pudgie" Riner, 52, was raised on a farm in Byron. After his father sold the family farm to the My T Acres, Riner spent 11 years working for the Call family.
He was pretty confident he could grow things. He had just never tried growing anything in a greenhouse before.
Shortly after marrying Patti Call more than 22 years ago, he opened Triple P Farms with a single 2,000-square-foot greenhouse.
Riner was encouraged by his brother and Craig Yunker of CY Farms to start with tomato seedlings.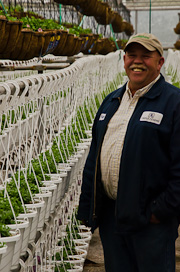 "They were not happy with quality of transplants that they were buying out of the south and I thought I could grow something better," Riner recalled. "They gave me an opportunity to try and that's what started the greenhouse business."
Today, Triple P Farms is comprised of more than two acres of greenhouses and he's adding on another 25,000 square feet. Triple P annually produces more than 12 million onion and cabbage plants for local farmers.
It's that kind of growth and contribution to the local agriculture community that led the Genesee County Chamber of Commerce to select Triple P Farms as 2010 Agriculture Business of the Year.
It's an award, Riner said, he finds humbling.
He credits his employees, his customers, his vendors and other members of the agriculture community, even his bank, for making the award possible.
"I always say, one of my biggest assets is the people around me who help make it work. I have the right team around me."
After more than 22 years in business, Riner said what gives him the biggest satisfaction are his employees. He keeps five full-time employees year around and employees 15 to 20 more people during the summer months.
"It feels pretty good that you're doing something to help people survive."
He said people like his office manager, Debbie Lynch, who has been with Triple P almost from the beginning, and his retail store manager, Scott Fisher, are the ones who really get the work done.
"I don't know how we could do it without the key people around that make it work."
In the summer, much of Triple P's staffing increase comes from Riner hiring young people.
Riner -- whose friends started calling him "Pudgie" when he was a teen and the nickname stuck -- said he likes new hires to be juniors in high school. It's hard, physical labor, but he enjoys working with youngsters, even mentoring them right through college.
"I always tell them, If you work for me you'll figure out why you don't want to do this for the rest of your life. Go to college and get a brain."
About 11 years ago, Riner bought a retail nursery on West Main Street in the Town of Batavia from the Riegel family.  
He renamed it Pudgie's Lawn and Garden Center.
"They (the Riegel family) had a wonderful reputation and I'd like to think that we have continued that wonderful reputation of high quality plants that are locally grown. The lawn and garden store we call Pudgie's has been good to us and we try to add more and more to it every year. We have a very good customer base there."
All of the "bedding" plants sold at Pudgie's are grown at Triple P, giving gardeners a chance to buy locally grown plants from local plant experts (most of Pudgie's employees are master gardeners).
This year, Riner lost his pea-picking business as the frozen food industry has consolidated around just two harvesting companies (Riner said he's proud that his business was one of the final four out of a few dozen once upon a time), but he's already taking Triple P in a new, promising direction.
This winter, he and a partner, A.J. Wormuth, started growing cucumbers in the Triple P greenhouses to sell through area retail stores under the Fresh Harvest Farms brand.
The new line is off to a promising start and the time is right, Riner said, to expand into other winter-grown vegetables because of the strong consumer interest in locally grown produce.
"There's a big push industry for local. The challenge is getting into the big box stores like Tops or Wegmans or Save-A-Lot, but with the impact of people pushing local, the door has opened a little more than in the past."
Riner and Patti have three children. One attends RIT, another is working on becoming a teacher and their oldest daughter lives and works in the Washington, D.C., area.
He said he and Patti keep most of their community involvement pretty low-key. They're active in Northgate Church and do what they can individually to help families and young people.
Patti supports the Cancer Society. She's twice survived cancer.
As he mentions her cancer battles, Pudgie chokes up.
"It still bugs me," he said, as his eyes moistened and his voice cracked. "You can tell. You can tell."
April 7, 2011 - 11:15am
#3
I love going to Pudgies year round. They offer programs for the kids to do around the different holidays. My kids look forward to the Easter Bunny and the pumpkin painting.....that have always been free of charge. They also stand behind their product like no other greenhouse business I know. Scott and all the rest of the wonderful staff make sure that you are pleased when you leave and are still pleased a year later. There isn't a bad thing you can say about them. I was in yesterday smelling the fresh soil and plants (yep...they have hanging baskets and plants already growing)....Thats when I know spring is here. Here's to the 2011 growing season...... woo hoo