November 17, 2011 - 6:41pm
Photo: Ribbon-cutting for new meeting space at Coffee Culture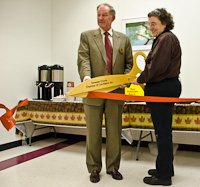 Brenda Richardson, manager of Batavia's Coffee Culture location thought an empty room in their building was going to waste, so she suggested turning it into an event center available to the community.
Her bosses apparently liked the idea because Thursday evening, Chamber President Lynn Freeman joined her for a ribbon-cutting ceremony for the new room.
The room is available for rental for parties, meetings and other group gatherings.
The spacious room is decorated with paintings by local artists. The paintings are also for sale.
Among the handouts for chamber members at the ribbon cutting was a flier advertising the availability of the Coffee Culture store to a franchisee. According to the flier, for an investment of about $295,000, you could become the owner of your own coffee house right in Downtown Batavia. SBA loans are available.
November 17, 2011 - 6:45pm
#1
Congrats! This is a great little place!