December 12, 2011 - 11:38pm
Five members end council careers on a high note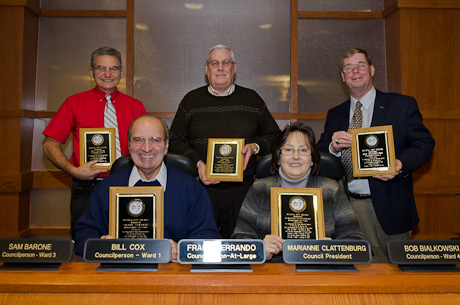 There was praise all around in Batavia City Council chambers Monday night as five council members commemorated their final meeting and their colleagues thanked them for their service.
Leaving are Frank Ferrando and Marianne Clattenburg, who were elected to the Genesee County Legislature, and Sam Barone, Bill Cox and Bob Bialkowski.
"The majority of this body is leaving and the majority of the body will be new and most of them are here (tonight)," Bialkowski said. "I can only wish them well. I commend them for their interest and dedication to serving the community."
Nearly every council member spoke about how tough it was to serve on the council a few years ago -- Ferrando said it wasn't fun to come to meetings -- but how much has changed in the past couple of years.
"Whenever we've left a meeting, we always left respecting every one's opinions and we will always be friends," said Rose Mary Christian. "I want to thank you all for serving our city."
Ferrando said the council has done some good work over the past few years that all members can take pride in.
"I think one of the good  things that happened is what we're sitting in right here," Ferrando said. "What happened with this building is that it transformed our Main Street. I think that's a very positive thing. It's going to be more obvious as the years go on."
Photo: Front, from left, Frank Ferrando and Marianne Clattenburg; back, Sam Barone, Bill Cox and Bob Bialkowski.
December 13, 2011 - 7:00am
#1
I can only imagine that serving on City Council must be a difficult proposition even in the best of times. Given the economic climate and fiscal issues that the city has faced over the past few years, I commend this council for making some difficult decisions which has helped to turn around the economic outlook of our city. The five council members above will be missed. I thank them and wish them well. I am hopeful that the new council will continue to be equally good stewards of our community resources.