February 12, 2012 - 7:06pm
Father saves baby son from smoke-filled room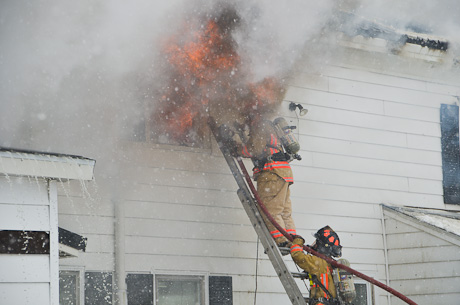 A father saved his baby son today moments before the room where he was sleeping burst into flames.
Peter Dart was downstairs in a two-resident house at 7650 Macomber Road, Alabama, when he and his wife smelled smoke.
He rushed upstairs to his 13-month-old son's room. The room was filled with smoke, smoke so thick he couldn't see anything.
He had laid the toddler down for a nap just 30 minutes earlier.
Dart found the boy's crib just by memory, grabbed him, pulled him to his chest and rushed out of the house.
Investigators have determined the cause of the fire was related to an electric heater plugged into an extension cord.
The fire was reported by Dart's wife at 10:36 a.m. When the first firefighters arrived on scene from East Pembroke, the northwest corner of the 180-year-old house was fully engulfed in flames.
Lorna Klotzbach, a Town of Alabama Planning Board member, owned the house and lived in the other half.
The house sits in an area of Alabama without public water. Tankers were dispatched to the scene from 15 fire departments to draw water from creeks, ponds and the closest fire hydrant.
Many of the nearby ponds had frozen over in the past couple of days, making it harder to draw water from them, said East Pembroke Chief Don Newton.
"A good supply of water definitely would have helped," Newton said. "We ran out of water quite a few times. We did not have enough water to fight the fire to the best of our ability."
The entire second floor of the house was destroyed.
Newton said much of the first floor was saved, and the residents would be able to recover personal belongings from downstairs.
The wind and cold weather didn't help in fighting the fire, either, Newton said.
Dart's son was taken by private vehicle to UMMC and treated for smoke inhalation. Dart said he is doing fine.
At least four emergency responders suffered minor injuries related to the incident. One firefighter was transported to UMMC with a hand injury.
At least one of Klotzbach's three cats survived the fire and Lorna said her dogs escaped safely.
Responding to the scene, along with East Pembroke, were Alabama, Town of Batavia, Oakfield, Darien, City of Batavia's Fast Team, Pembroke, Indian Falls, Elba, Barre, East Shelby, Byron, South Byron, Alexander, Bergen, Attica, Wolcottsville, Mercy EMS and the Genesee County Sheriff's Office.
CORRECTION: We initially reported the child was a girl. That was based on what I thought for sure was the father saying "she" when I interviewed him. Even after reviewing the tape, that's what I thought I heard; however, there is some wind on the recording. Another, reliable source assures me the child is a boy. The story has been changed accordingly.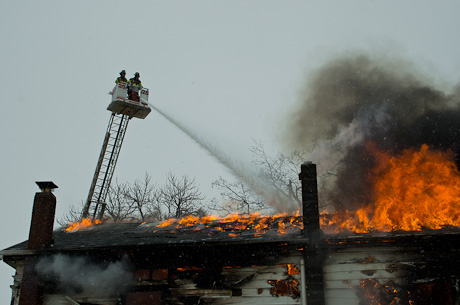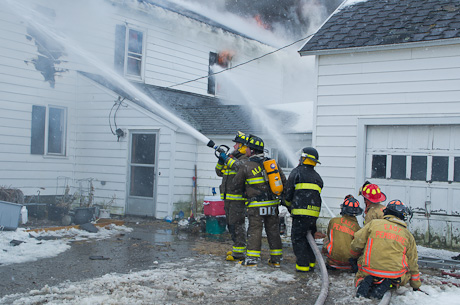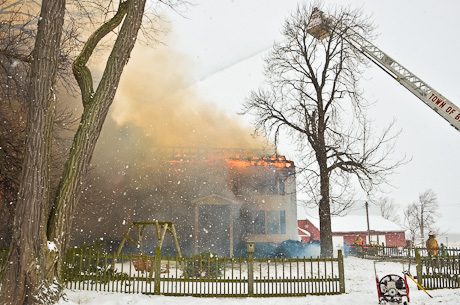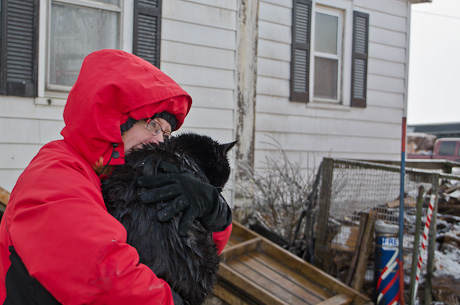 If you're unable to view the photo slide show, click here.
Prints of these photos may be purchased by clicking here.
Initial report posted here.
February 12, 2012 - 10:10pm
#3
Many thanks to God for our safety and many thanks to all of the firemen, friends, neighbors and to my family for helping me today when my house burned up. I am so glad that I live in a rural area where people come from near and far to offer such practical and warm-hearted assistance. Thank you to all who have helped so far and to all of the others who have offered to help in the future. Thank you.