April 22, 2012 - 11:07am
Up to a foot of snow predicted for most of Genesee County
posted by
Howard B. Owens
in
weather
.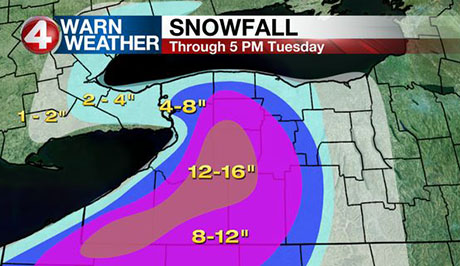 Much of Genesee County could see from 8 to 12 inches of snow from a storm expected to hit the region by Monday morning, according to WIVB meteorologist Bryan Shaw (who created the weather map above).
Shaw reports that areas closer to the lakes are more likely to see rain as the air will stay warmer at lower elevations. Further inland and at higher elevations, snow fall will be heavier.
It will take only a few inches of heavy, wet snow to cause damage and possible power outages, Shaw said, because the warm spring has many trees already growing foilage.
A winter storm watch is in effect through Monday evening.
April 22, 2012 - 6:50pm
#1
Well according to weather.com its been upgraded to a warning and they are calling for massive power outages and very simular effects as that storm we got a few years back "snowtober". So the question is, in the first time ever in weather history are the meteorologists going to be wrong (sarcasm) or will this be "snapril"? On second thought, that looks kinda dumb, how about "snowpocolypse"?
April 23, 2012 - 12:36pm
#2
Me too, Ron. We used to live (for one and a half long years) in Bakersfield, Calif., which is actually named after a real person but just so happens to be a place where you literally bake in a field. Opening your door and stepping out in August is like walking into an oven, with temperatures reaching upwards of 120 degrees at times. No skillet? Hey, just fry your eggs on the sidewalk.
After all, what's a little dust? On second thought, in Bakersfield, dust in that place could carry debilitating Valley Fever spores, which can create an illness for which there is no cure.). Add to that the smog drift from Los Angeles that gets trapped in the San Joaquin Valley and there you have it, one of the worst air quality habitats in the United States. The weather reports come replete with a smog-index warning. The only thing redeeming about Bakersfield is dead now -- the late, great Buck Owens (Haggard was from tiny adjacent Oildale (the name says it all)), although the Bakersfield Sound will, thankfully, never die.
As for deserts, they are lovely to VISIT in the spring when there's an abundance of pretty and unusual wildflowers and the cactus is in bloom. I'm not inclined to live in, say, Phoenix or Waco or similar climes. I've got too much sun damage as it is. I'll take cold weather (while there's still some left).