July 25, 2012 - 4:40pm
DEA raids 420 Emporium in Batavia as part of nationwide assault on bath salt sales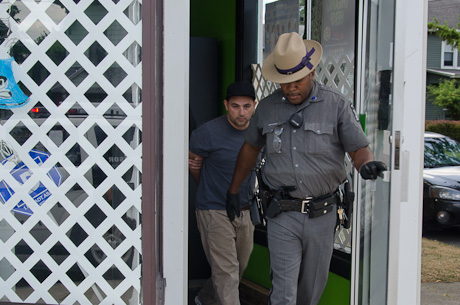 A 30-something woman walked out of the 420 Emporium at 400 Ellicott St., Batavia, this morning and told a police officer standing near the door, "Well, I picked the wrong day to come here."
Minutes before, at precisely 11:30 a.m., law enforcement officers from multiple agencies and led by an agent from the federal Drug Enforcement Administration swooped into the head shop and executed a search warrant aimed at finding evidence of illegal synthetic drug sales.
Two people believed to be employees of the 420 Emporium were taken into custody and four boxes of product marked "DEA Evidence" were removed from the store.
The raid was an apparent coordinated effort by DEA agents throughout the United States to go after the distributors of "bath salts" and other synthetic drugs.  News reports from around the country so far report bath salt-related raids in Boston, Albuquerque, Tampa, Texas and Utica.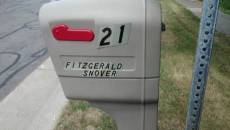 The 420 shops in Brockport and Fulton were also raided as was the home of Charles Fitzgerald and Amber Snover at 21 West Hills Estate, Greece (mailbox, inset photo, courtesy Sean Carroll, WHAM13).
A warehouse in Tonawanda was also raided and WIVB reports it was allegedly a major distribution point for synthetic drug-trafficking throughout Western New York. Fawzi Al-Arashi was arrested at his Amherst home in connection with that raid.
The names of the two people taken into custody in Batavia this morning have not been released, nor do we know yet what federal charges they might face. They were transported to Rochester federal court for arraignment.
Authorities at the scene of the raid were not able to confirm what substances, if any, were found. We can only report that investigators -- which included agents of the Local Drug Enforcement Task Force and the State Police -- were inside the shop for two hours. DEA agents entered with flat, folded boxes and left with boxes seemingly packed to the brim of items retrieved from inside the store.
One male believed to be an employee of the store was inside at the time of the raid. A second woman showed up about 12:45 p.m. and spoke briefly with a trooper outside the shop, giggling nervously and saying she came by "to see if I still had a job."
Less than two minutes after she entered the shop she was sitting in a chair with her hands cuffed behind her back.
The same woman had been in the shop and behind the counter seemingly waiting on a customer when a reporter from The Batavian entered the store on July 17.
While Batavia PD were on scene, numerous members of the community drove by the location on Ellicott Street and honked, gave thumbs up and yelled "good job" at police officers.
"It's very nice to see the community is supporting the efforts that we are doing here today," said Chief of Police Shawn Heubusch.
Heubusch said the DEA enforcement effort was indeed a welcome one for the community.
"This is a big relief for the City of Batavia as a whole," Heubusch said. "The residents in this community have been plagued by a problem with bath salts. To see this effort, to see that the federal government has noticed this, it is a very big relief to the residents of the city and the police department."
Asked if it felt like it took awhile for DEA to act at a time when current laws kind of tie the hands of local law enforcement, or if the DEA action seemed swift, Heubusch said, "The old saying 'good things come to those who wait' applies here. As with any criminal action, you need to get all of your ducks in a row and make sure you're on good legal solid ground. I think they acted swiftly in this case."
The actual investigation into 420 Emporium appears to have taken about two-and-a-half months, according to an affidavit filed in federal court in support of a DEA request for a search warrant.
The affidavit states that a confidential informant helped supply information about the operation of the 420 shops, the practices of its owner, identified as Charles Darwin Fitzgerald, and supplied possible evidence to agents.
According to the affidavit, Fitzgerald was previously involved with the Look A Hookah shop in Rochester and that the informant has witnessed Fitzgerald provide synthetic drugs to people to sample and test so he could determine the effect on the people and the effectiveness of the product.
Fitzgerald is reportedly romantically involved with Amber Snover and they have at least one child together and both reside at 21 West Hills Estate in Greece.
Fitzgerald is identified as the sole owner of the 420 locations in Brockport, Fulton, Rochester, Henrietta and Batavia.
The affidavit focuses on two types of "Amped" allegedly sold at the 420 stores. 
There is an older product that is a white powder and a newer product that is an off-white powder. Both products are allegedly distributed by a company out of Tempe, Ariz., called Dynamic Distribution.
DEA agents intercepted two shipments headed to Rochester. Allegedly, one was specifically addressed to "Amber" at 21 West Hills Estate. (The phone number associated with the shipment is one digit off, with a an "8" where a "3" should be for the number The Batavian used to request an interview with Amber Snover earlier this week.)
The second box allegedly listed the same recipient as the first box and notes the second box required a COD payment of $23,500.
The first box weighed 22.9 pounds and was allegedly shipped from John Freeman, 3360 Annapolis Lane North, Suite A, Plymouth, Minn. 
The DEA requested and received a search warrant in order to seize the packages.
Inside, agents allegedly found 2,000 grams of "Amped Exuberance Powder," 500 grams of "White Water Exuberance Powder" and 495 grams of "Snowman Glass Cleaner."
A lab test allegedly found the Amped contained alpha-PVP, benzocaine and caffeine, and those same substances were allegedly found in the other products as well.
Alpha-PVP is apparently an analog (something like -- and under the Federal Analog Act like enough to -- a controlled substance that it's illegal to sell) of MPDV, which was made a federally controlled substance July 9 and has been a controlled substance in New York for nearly a year.
Over the past two-and-half months, according to the affidavit, agents have made a series of undercover buys at all five 420 locations.
During the undercover operation, agents noticed each of the 420 locations had security cameras that the DEA believes allowed a person at a remote location to monitor activities at the stores.
Undercover buys of Amped were allegedly made in Brockport and Batavia on July 2 and July 3.
At other 420 locations, clerks are alleged to have detailed conversations with undercover agents about the use of specific synthetic drugs, including Amped.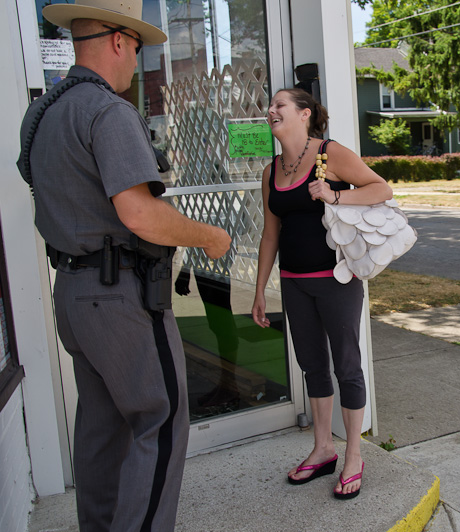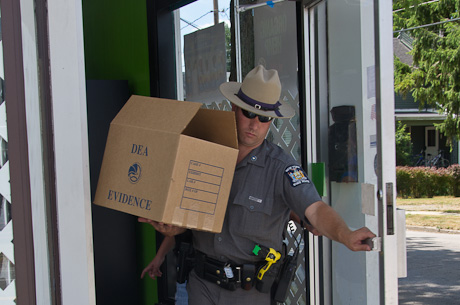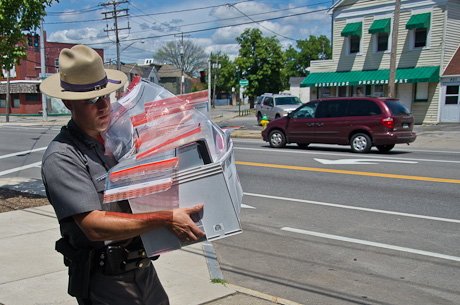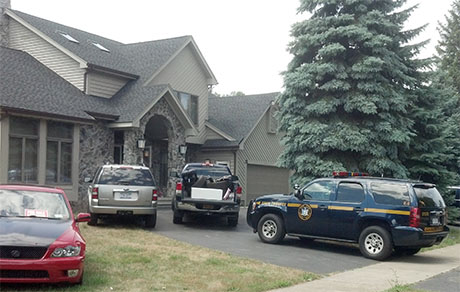 Bottom photo, 21 West Hill Estate in Greece, the residence of Charles Fitzgerald and Amber Snover. Photo courtesy Sean Carroll, WHAM13.
July 25, 2012 - 5:17pm
#3
LOL apparently Beth while we were all aggravated with the seeming audacity of these scumbags and their cocky attitude towards the community they were helping the police build a solid case against them. Hopefully they will turn over and give up the chemists that are manufacturing this poison and curtail it's distribution. Hopefully this is the end and now we have to help those that were hooked on this crap and hopefull get them some semblance of a normal life again.
Good job and thank yous to the Federal State and local authorities for getting some real bad guys off the street.