October 21, 2012 - 10:55pm
Deer wreaks havoc on Ellicott Street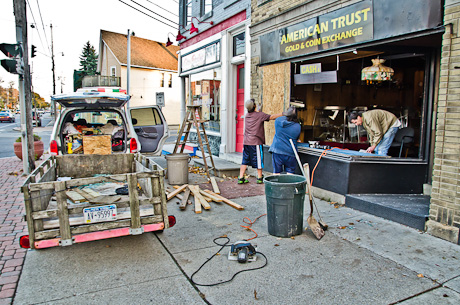 A deer ran down Ellicott Street this evening, damaging the windows of two businesses before it was tracked to the end of Maple Street and dispatched by a Batavia police officer.
The deer first rammed a window of an office complex near Hutchins Street and then continued west before making a charge at the storefront of American Trust Gold & Coin Exchange at 239 Ellicott St.
Two residents of the building, Adam Ganzhorn and David King, tracked the animal to the end of Maple Street, at the industrial complex there, and a Batavia police officer killed it at that location. The six-point buck was tagged and Ganzhorn and King took possession of the animal.
Frank Bellucci and his son, from Short Notice handyman service, boarded up American Trust, which had its entire front window blown out, and expected to board up the other business as well.
October 22, 2012 - 2:11pm
#2
so this poor thing who was scared was injured so much that it needed to be killed? who decided this and what makes them the expert? isnt animal control supposed to be called so they can assess the situation? they used to, they are better trained, they would humanely euthanize or put it back towards woods. poor thing didnt have a chance with ppl drooling at it,