December 26, 2012 - 7:18pm
Weather related reports, Dec. 26
posted by
Howard B. Owens
in
weather
.
A tractor trailer is in a ditch and on its side in the area 6086 Broadway Road, just west of Transit Road. The driver initially could not get out, but then managed to get out of the cab. He is uninjured. Bethany Fire is responding.
UPDATE 7:23 p.m.: Bethany incident, trucker was hauling canned goods.  There appears to be no fuel spill at this time.
UPDATE 7:35 p.m.: Parise's is so backed up with calls that they can't respond to the truck call until tomorrow.
UPDATE 7:42 p.m.: The trucker's company is sending another truck to assess the situation. Bethany FD will put out cones, even though the truck is a little off the roadway and clearing the scene.  The trucker will notify dispatch if and when the truck is moved tonight.
UPDATE 7:52 p.m.: Vehicle off the road on Alleghany Road.
UPDATE 8:03 p.m.: The vehicle off Alleghany Road, Darien, needs a wench out and is extremely low on gas, but a dispatcher said there's no guarantee of a quick response from a towing company. They're all "extremely backed up," he said. Meanwhile, a deputy is following a vehicle back to a trailer park on Clinton Street Road. The vehicle has a locked up tire.  And, a vehicle is off the road on Fisher Road and another motorist is trying to pull it out, but neither has hazard lights on, according to a caller.
UPDATE 8:08 p.m.: A deputy was going to give a courtesy ride to the Alleghany Road driver back to his residence, but an AJ's truck in the area, "as luck would have it," according to a dispatcher, just became available in Darien.
UPDATE 8:13 p.m.: Caller on Fisher Road reports a driver doing donuts on the caller's lawn. And, there is a disabled vehicle on Richmond Avenue, Batavia.
UPDATE 8:17 p.m. Back in Bethany, the trucker's company is dispatching a tow, which should be there in about 20 minutes.
UPDATE 8:22 p.m.: Another car off the road on Fisher Road. A deputy happened by. The driver has her own tow in route.
UPDATE 8:26 p.m.: Deputy who responded to "donut" call on Fisher: "It looks like he just went off the road. Talked with the complainant. He's all set."
UPDATE 8:30 p.m.: A tractor trailer is reportedly off the road and in a ditch on Route 63, south of Little Canada Road.
UPDATE 9:01 p.m.: Another report of another driver doing donuts near an intersection, but I didn't catch the location.
UPDATE 9:31 p.m.: Photo of the truck on its side on Route 63 on Route 20, between Suicide Corners and Texaco Town, from Doug Yeomans.
UPDATE 12:27 p.m.: Disabled car in westbound traffic lane of West Main Street Road, awaiting AAA.
UPDATE 1:32 a.m.: Tractor trailer stuck on Route 77, Darien, near the fire hall.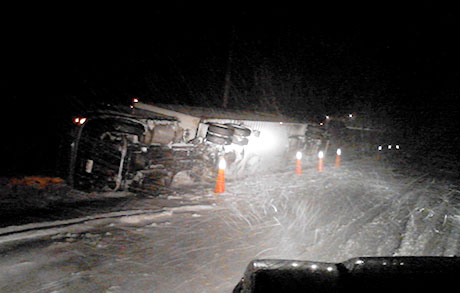 UPDATE 10:05 p.m.: A truck is stuck on Cedar Street.
UPDATE 10:17 p.m.: A deputy on Route 63 near Clapsaddle has come across a vehicle that needs a winch out.
UPDATE 10:29 p.m.: Batavia PD is out with a disabled vehicle on West Main Street near Porter Avenue.
UPDATE 10:30 p.m.: A Trooper is dispatched to Ellicott Street Road near Shepard Road for a vehicle stopped in the middle of the road.
UPDATE 10:35 p.m.: Disabled vehicle at Bank and Main.
UPDATE 11 p.m.: Deputy coming on duty, "In service, snow patrol." A woman on Roanoke Road got stuck and for some reason got out of her vehicle to call her husband. She locked her keys in the car and is now awaiting a deputy. There's a vehicle off the road on Cole Road, but it's well off the road and the owner is going to leave it there until the morning.
UPDATE 11:05 p.m.: Bethany fire police requested to Route 63 and Shepard. The tow operator requested traffic stopped for that incident. 
UPDATE 11:16 p.m.: Vehicle stuck in the snow in Alabama, off Wright Road.
UPDATE 11:17 p.m.: For the woman on Roanoke, her husband showed up, pulled her out and had an extra set of keys.
UPDATE 11:25 p.m.: Several vehicles are stuck at Route 20 and Route 77.
UPDATE 11:29 p.m.: Car fire, in roadway at 2989 Galloway Road. Town of Batavia Fire dispatched.
UPDATE 11:31 p.m.: Vehicle disabled on Bank Street in front of the nursing home, backing up traffic.
UPDATE 11:36 p.m.: A patrol car is stuck on Galloway Road.  A state DOT worker is stuck on Slusser Road.  Now, the deputy got himself unstuck, but he doesn't think he can make it to the fire location. The road is covered with high drifting snow.  The patrol will attempt to follow the fire trucks to the location.
UPDATE 11:42 p.m. Fire truck drivers advise the deputy not to try and follow them. A driver says "Galloway has disappeared, but we'll get there."
UPDATE 11:48 p.m.: A little unclear here.  Something about a fire truck arriving on scene, but nothing showing.  Then something about this isn't it, "and we'll continue west," then something about a vehicle off the road in a ditch.
UPDATE 11:51 p.m.: Vehicle is located. "It's still going," according to a responding firefighter.
UPDATE 11:54 p.m.: It's suggested that town plows hit the roads again.  A dispatcher said they just went home for some sleep after being on the road since 3 p.m.. The dispatcher asks if it's necessary for them to come out?  "I think they're going to have to," is the answer.
UPDATE 12:05 a.m.: Vehicle off the road, Route 237, Bergen.
UPDATE 12:07 a.m.: A deputy is still trying to figure out how to get to the vehicle fire on Galloway Road, but a supervisor suggests that if the fire isn't suspecious, there's no need to go.  A Batavia chief confirms the fire is not suspicious. There's a car stuck on Park Road. 
UPDATE 12:11: a.m.: Truck still suck on Cedar Street.  Tow company on scene with that truck and they're discussing whether to do the tow tonight or tomorrow. Also, another truck is now off the road on Cedar Street and a tow is attempting to pull it out. Mercy EMS is requested to a medical call in the city, but road conditions make it a 15 minute ETA.  That car blocking on State Street?  It's still there.
UPDATE 12:18 a.m.: The latest forecast: Snow at a rate of up to two inches an hour until 2 a.m., and then tapering off to light snow for the rest of the night.
UPDATE 12:20 a.m.: Batavia PD has come upon a car stuck and blocking Denio at Bank and Denio.
UPDATE 12:47 a.m.: A car is stuck on Cohocton and the "nice gentleman" who is driving it called to let dispatchers know that he could use a cup of coffee while awaiting a tow.  A deputy is dispatched to check on his well being.  The deputy dispatched was at that moment at Brickhouse Corners where he just came upon a Buffalo News delivery truck that is stuck.
UPDATE 12:53 a.m.: A car stuck on Parmalee and another one on Route 19, trying to go uphill, at Parmalee.
UPDATE 12:56 a.m.: A pickup truck with a snow plow is attempting to pull out the "nice gentleman" on Cohocton Road.
UPDATE 12:59 a.m.: Two vehicles stuck on Ross Street.
UPDATE 1:05 a.m.: Chimney fire reported at 10838 Molasses Hill Road, Alexander. Alexander Fire with mutual aid from Town of Batavia responding.
UPDATE 1:15 a.m.: There is some fire at the chimney fire. Town of Batavia asked to standby in quarters.
UPDATE 1:20 a.m.: Bethany Fire request to Molasses Hill.  Somewhere there is another tractor trailer off the road (didn't catch where) and there are cars off the road in the area of Circular Hill Road.
UPDATE 1:42 a.m. Related to the 1:20 a.m. update, it was South Street Road, and his patrol vehicle is now stuck.
UPDATE 1:07 a.m.: An Alexander chief suggests the trucks will need to come in on Dry Bridge Road because they'll never make it up Mollasses Hill Road. Another chief suggests that the chief arriving on scene and make an assessment on whether Town of Batavia's response will be necessary.  "We don't want them to come any further than they have to."
UPDATE 1:11 a.m.: A second call in Alexander's district, a general alarm of fire at 10176 Gillette Road. Alexander is asking Darien to respond to the second call.
UPDATE 1:23 a.m.: Gillette Road call was accidental activation.
UPDATE 1:39 a.m.: Sheriff supervisor tells dispatch to get the towns out now and start plowing.  "I'm going down (forget the road) now and if I don't keep moving, I'm done. If we have to respond anywhere in an emergency we'll have a real problem."
UPDATE 1:44 a.m.: Attica Fire requested to Mollasas Hill. All avaialble manpower for Alexander requested to Mollassas Hill. Town plows (not sure which town) are scheduled to hit the roads again at 3 a.m. A tow driver is headed to South Street Road to assist the stuck Sheriff's patrol.
UPDATE 1:49 a.m.: Town of Batavia's Ladder 25 now requested to Mollassas Hill.
UPDATE 1:51 a.m.: Multiple cars are stuck on Route 262, Elba, and have been there for some time.  State Police received a call and contacted Genesee dispatchers. As far as dispatchers know, either tow trucks or state DOT are going to the area, but "it's going to be a while."  Also, in Basom, a doctor needs to go to the hospital in Medina and is stuck in the snow.
UPDATE 2:42 a.m.: Route 262 east of Route 98, Elba, is barely passable.
UPDATE 3:12 a.m.: Calling it a night. Alexandar and mutual aid companies still on scene at Mollassas Hill.  The calls for stuck cars has dropped off to nothing.
December 27, 2012 - 1:05am
#5
oakfield is buried the workers on strike or sleeping ?
and we pay taxes? for what? split the shift they love the overtime
i checked out town and village barns and they are not even plowed out?
call the oakfield hotel and tell them last call!!!