January 27, 2013 - 1:56am
Photo: Swan on the Tonawanda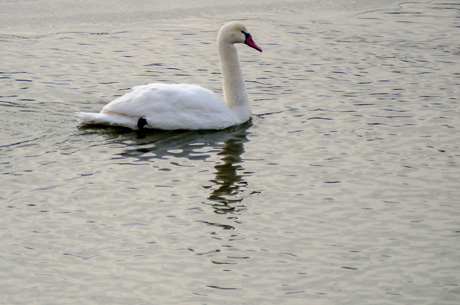 A reader alerted us Saturday that she had seen a swan on the Tonawanda Creek earlier behind Settler's. Sure enough, we found this big white bird hanging out with the geese.
January 27, 2013 - 2:22am
#1
I tweeted you that on Friday! What an impressive bird - I was happy to have seen it while out walking!!!
January 27, 2013 - 12:39pm
#2
Swans are definitely one of my favorite birds as are ducks and blue herons and to see them in the wild does my heart good.
Edna St. Vincent Millay wrote:
I looked in my heart while the wild swans went over.
And what did I see I had not seen before?
Only a question less or a question more;
Nothing to match the flight of wild birds flying.
Tiresome heart, forever living and dying,
House without air, I leave you and lock your door.
Wild swans, come over the town, come over
The town again, trailing your legs and crying!
January 27, 2013 - 1:42pm
#3
Nice poem ... had not read it before.