February 24, 2013 - 8:14pm
After 25 years of solving problems and resolving conflicts, Sgt. John Peck retires from police department
posted by
Howard B. Owens
in
batavia
.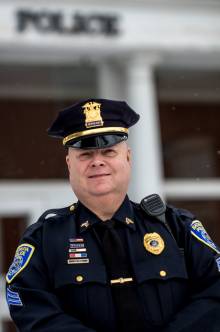 It wouldn't be a stretch to say that Sgt. John Peck, during his 25 years with the Batavia PD, has been a lifesaver.
He never fired his service weapon, and on several occasions he talked people out of jumping off roofs or into dropping a knife or gun.
He's been one of the department's hostage negotiators.
He got the job, he said, because, "I kind of had the gift of gab."
Perhaps the most stressful negotiation came near the end of his career, in November, when a resident of a boarding house on State Street fired a .357 Magnum inside his apartment.
Peck was the first officer in the building. When he got to the top of the stairs, Dennis G. Wolfe was allegedly in his doorway with his gun.
For the next 15 minutes, Peck talked. It helped, he said, that he already knew Wolfe.
Both men had guns. There were five police officers in the foyer. It was, to say the least, a tense situation.
When Peck saw a tear, he knew he had turned a corner in the negotiation.
It's always that way, Peck said. You never think you're not going to be able to talk a person away from the brink of disaster.
"Your adrenaline gets going and you get really focused and you don't even think of not resolving it," Peck said, adding later, "You kind of tell which direction it's going, but you never feel like you're not going to to be successful."
Peck's last day on the force was Saturday.
In retirement, Peck will get a few more tattoos, ride his motorcycle when the weather warms up, and maybe get a part-time job that has nothing to do with law enforcement.
He plans to stay in Batavia, where his wife of eight years, Jennifer, and two adult children, Ryan and Ashley, live.
After growing up in Fairport and going to college, he  started his career working part time in the Livingston County Jail.
"When you're a young guy, you don't want to spend your time in the jail," Peck said. "You want to be on road patrol."
Soon, he took a police officer's job in Geneseo. Two years later, better benefits and pay lured him to Batavia.
Working in a small city appealed to Peck, he said, because while you get a good variety of calls, serious crime is still rare.
"It's not like you have homicides every day, like in, say, Rochester," Peck said.
There's been plenty of opportunity to talk with people, get to know people and work with people, Peck said, which is his favorite part of police work.
He also likes solving problems.
"When you get a complaint, you look at it like a puzzle, putting the pieces together and resolving an issue," Peck said.
In 25 years in Batavia, though, a lot has changed, though, Peck said.
There are more calls for service, more people causing more problems and a shrinking police force to deal with the call volume.
Peck's advice for the new guys: "Stick together" and learn to prioritize.
The new officers must cope with the demands of a changing Batavia, Peck said, plus they have to deal with a changing department structure (eliminating the lieutenant position, for example) and a less generous retirement package.
"They need to stick together as a group and face the challenges," Peck said.
The biggest difference Peck has noticed in Batavia, he said, is the public's attitude toward law enforcement.
"I don't see as much support for the police over the years," Peck said. "I think a lot has changed as far as respect, especially from a lot of younger people. You just don't see the respect and you have to come to terms with that and learn to deal with it."
February 24, 2013 - 8:27pm
#1
Enjoy your well deserved retirement. Congratulation.
February 24, 2013 - 8:58pm
#2
A job well done, Sgt. Peck !! Thank you for 25 years of service to the City of Batavia residents.
February 25, 2013 - 3:45am
#3
Our Police Force are great in the city of Batavia, Ny.