March 4, 2013 - 3:46pm
Proceedings against Batavia burglary suspect delayed slightly while new attorney takes the case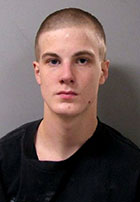 A Batavia man accused of eight burglaries in the city will be represented by a private attorney, Judge Robert C. Noonan was informed this afternoon.
Fred Rarick, initially assigned to represent Francis S. Smith, 19, formerly of 20 S. Main St., Batavia, told Noonan that he had been contacted by the family informing him the family retained an attorney to represent Smith.
Noonan noted that the attorney had not yet appeared with Smith nor filed notice with the court, but agreed to call Smith back in a week to appear with his new attorney.
A plea offer has been extended to Smith, District Attorney Lawrence Friedman said, and indicted he is ready to present the case to a grand jury.
Smith was arrested Jan. 1 while allegedly burglarizing a residence on Washington Avenue. Prior to that arrest, there had been a series of burglaries reported in the city that investigators considered to be the work of the same person. Smith has subsequently been charged with seven of those burglaries.
March 4, 2013 - 11:17pm
#6
I know one of his victims and he ruined her for the rest of her life. She is one of the nicest people in the world and now she's scared for life! Hope he gets what he deserves! Serve his time than become a hard working person like the rest of us who never took anything that didn't belong to us! Hope he finds God on his way.