August 4, 2013 - 2:24pm
Mother seeks help in finding her missing son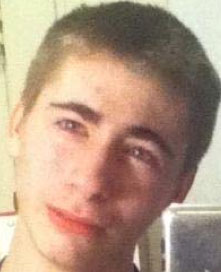 A 15-year-old resident of Attica with close ties to Batavia is missing and his mother is seeking the public's help in locating him.
She believes her son has run away. He left home about 1 a.m.
Timothy A. Vail Jr., is required to take medication daily and his mother doesn't believe he has his medication with him.
Timothy is 5' 4", 145 pounds with very short dirty-blond hair and greenish/hazel eyes, very black eyebrows and his lower lip is pierced. He was last seen riding a white bike wearing gray shorts and red tank top and carrying a gray and black backpack.
He is known to sometimes hide in the woods near Kibbe Park and near the Rite Aid at Clinton and Main.
Lesly Vail Trebian says she can be reached (585) 708-5005 by text at (585) 409-6148.
A missing person report was filed with Attica PD.
Photo is from a year ago when he previously went missing.
August 4, 2013 - 7:33pm
#1
Young Mr. Vail should read the above article. Family is never to be taken for granted.
August 4, 2013 - 8:53pm
#2