September 20, 2013 - 11:08am
Photo: New Mexican food place planned for Batavia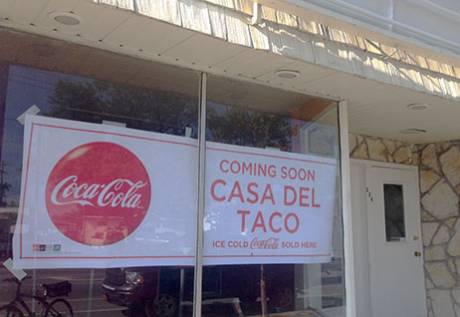 It looks like Batavia is going to get a taco stand on Ellicott Street across from the Pok-A-Dot near Liberty Street. This sign appeared in the window recently. The new owners were not around when I stopped by this morning.
UPDATE: One of the new owners is Derek Geib, co-owner of Bourbon & Burger Co.. Mike Hyland, a partner at B&B, is also partner with Casa Del Taco, along with Dick Long. They're shooting for an Oct. 1 opening.
September 20, 2013 - 11:19am
#1
Please, please let this be a place that sells Tijuana-style, real taco-stand Mexican street food. With shredded beef tacos and burritos on the menu, with the latter not stuffed with rice and beans unless you specify that.
A place with a little condiment bar with sliced radishes, lemon wedges, various hot sauces, not just habanero sauce in a bottle, and salsa. A place with authentic Mexican old-style music playing.
A place......
Pretty please with dulce on top?