July 5, 2014 - 5:41am
Home of Frost Ridge Campground owners in Le Roy destroyed by fire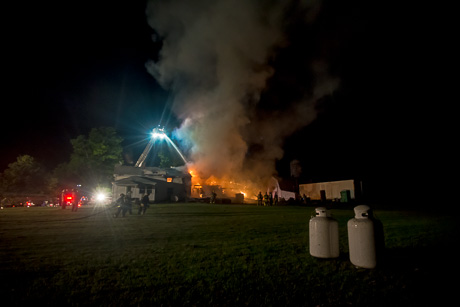 As he stood just 100 yards from his home destroyed by an early morning fire, David Luetticke-Archbell wanted a picture made -- one that would bring in all of the scene filled with dozens and dozens of volunteer firefighters.
"I want our daughters to see this so they know that so many people came to help us," Luetticke-Archbell.
No lens offers a wide enough angle to bring it all in, but Luetticke-Archbell said he was "blown away" that so many would take their time to help others in need.
The fire may have destroyed every personal belonging of David and Greg Luetticke-Archbell, who moved to Le Roy in 2008 to purchase Frost Ridge Campground on Conlon Road.
"When we move out here, we scaled down to only what we could fit in our RV and we came and there were very few personal effects, just the things that actually had meaning because they came from a parent or a grandparent or something," David said. "There's nothing left. I keep telling the kids that it's going to be OK because we still have each other, but there's nothing else left. It's going to have to be enough."
David and Greg are parents to an 11-year-old boy and two 7-year-old girls. 
They also had a family dog, Sadie, who is missing.
David and Greg had been at the campground all day for Fourth of July and spent the evening enjoying a campfire with friends.
As they returned home at about 12:30 a.m., David said he could see the glow of a fire. He thought somebody's barn might be on fire. As they got closer he saw the fire trucks and it still didn't sink in.
"I thought, 'I hope nobody got hurt,' " David said.
Then it struck him.
"There is our home with fire on it and it's everything that we ever had," David said. "And it's not there anymore and I don't know what to say."
As they pulled up, Greg rushed to the front door. He wanted to find Sadie. A Le Roy police officer stopped him from going into the burning building.
"An officer said 'no you can't, it's too dangerous,'" David said. "He was right because about that time the front of the house – it exploded. I mean you would have thought there was a bomb in there or something. I mean you ... look at this. There's nothing left. There's like a frame."
While the house burned, Greg began to shake uncontrollably. He was taken by ambulance to Strong Memorial Hospital for observation. Greg recently suffered a pair of heart attacks.
It's been a stressful few months for the campground owners. They are being sued by neighbors David and Marny Cleere and Scott and Betsy Collins as well as the Town of Le Roy. The suits allege violations of the town's zoning laws over both the very existence of the campground (which as founded by Marny and Betsy's family in the 1960s) and live music concerts held at Frost Ridge. Judge Robert C. Noonan granted a temporary injunction to the town barring amplified music at Frost Ridge pending a final decision on the lawsuits.
Le Roy Fire Chief Tom Wood was the first on scene and he said the back porch of the residence at 8005 North Road was completed engulfed in flames.
Firefighters entered the structure to pitch an offensive battle against the flames, but when a ceiling collapsed on them, they had to retreat.
An explosion inside the residence knocked down a firefighter who was outside the building. He wasn't injured in the blast.
From that point, the fire fight was defensive and crews did manage to knock the fire down before it did heavy damage to the front of the house.
"Our biggest problem here was water," Wood said. "We've got three different counties worth of tankers here shuttling water."
In all, 12 fire departments responded to the scene.
Wood said it may be possible or the David and Greg to recover some belongings from the front of the structure, but in all likelihood, it will need to be torn down.
The house was built in 1806 and David said the beams of the house are cut tree trucks that still have bark on them in places.
Frost Ridge has a history of supporting the Le Roy Fire Department.
"It definitely hits home with us," Wood said. "These guys have been great to us. They run a Fun Day for us. With everything else that's going on there, they certainly didn't need this."
UPDATE 11:26 a.m.: The cause of the fire has not yet been determined. The investigation is being conducted by Deputy Frank Bordonaro, the Le Roy Fire Department and Genesee County Emergency Management. 

Assisting at the scene were Alexander, Brockport, City of Batavia, Town of Batavia, Bergen, Bethany, Byron, Caledonia, Churchville, Cuylerville, Darien, Elba, Mount Morris, Mumford, Oakfield, Perry, Scottsville, Stafford, South Byron, Pavilion and York. Mercy EMS also responded to the scene. Inmates from Wyoming Correctional Facility were also bussed in to help.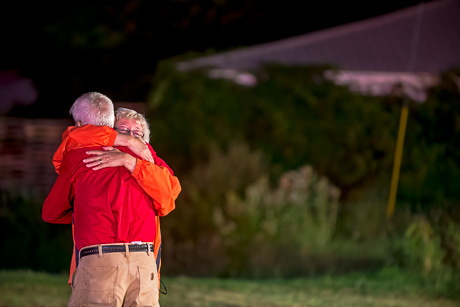 David Luetticke-Archbell receives a hug from a neighbor.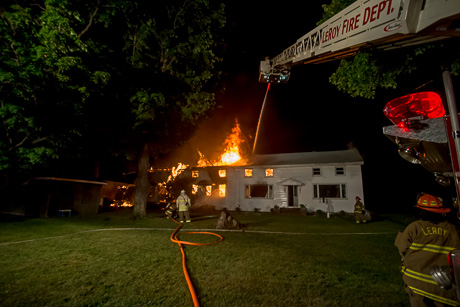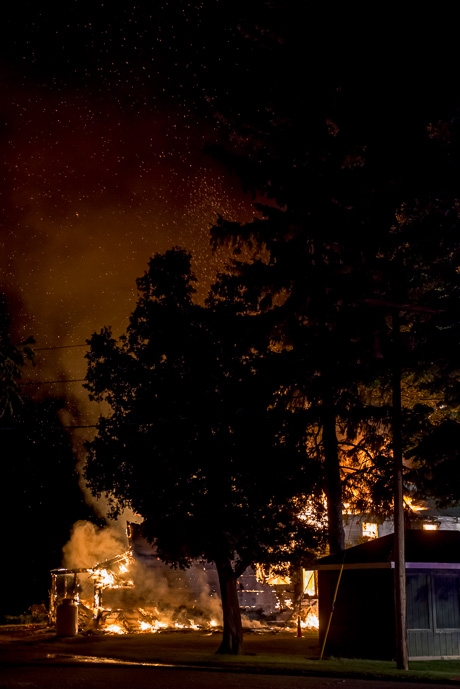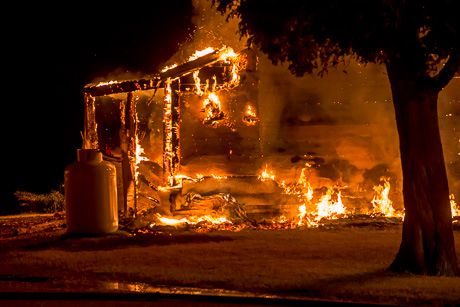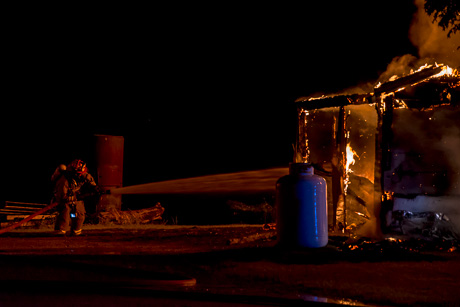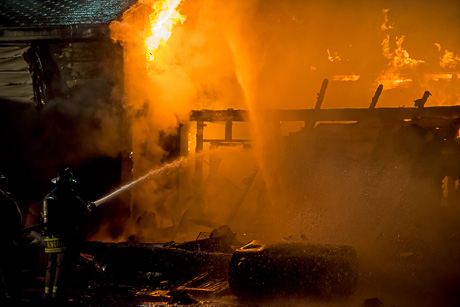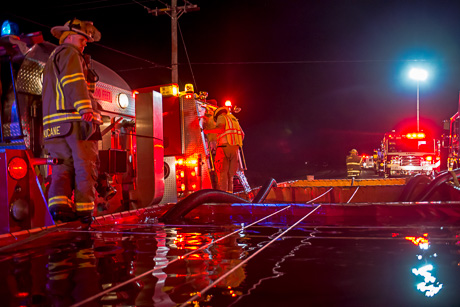 I can't imagine.....I just can't imagine...
I hope Leroy has access to some damn good arson investigators. As removed as I am from all that's been happening with Frost Ridge, even I find this a bit of a coincidence. This needs to be investigated thoroughly to either find the folks responsible, or to convince people that it was truly an accident and try to calm the situation down.