July 30, 2014 - 12:07am
Photos: A push mower never goes out of style
posted by
Howard B. Owens
in
batavia
.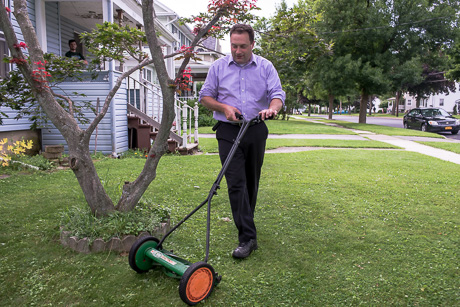 Driving down South Jackson, I see a man in black slacks and a dress shirt with a push mower cutting his lawn.
If it were the 1950s or 1960s, perhaps that wouldn't be unusual.
Frank DeMare said it is a little unusual for him to cut the lawn. Usually, it's one of his sons.
DeMare has four sons and a small yard, so he's never seen the point in buying a power mower, or a power snow blower, for that matter. Shovels work just fine.
July 30, 2014 - 1:54am
#1
Ahhh, the memories of cutting grass as a kid with a reel mower then trimming on your hands and knees with hand shears. No loud engines, no gas smell, just the essence of fresh cut, finely manicured grass. I think that now, I wish I thought that way then. I might have appreciated it more.