January 11, 2015 - 2:29pm
East Pembroke installs fire officers for 2015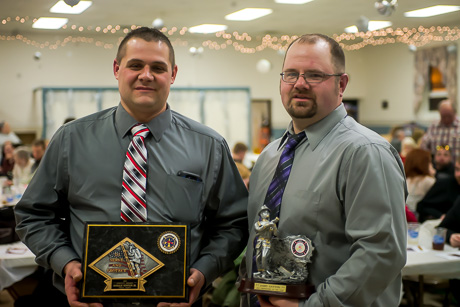 Chief Don Newton, East Pembroke Fire Department, received the Service Award for 2014, and Fire Training Officer James Gayton was named Firefighter of the Year Saturday night during the department's annual installation dinner.
Counting fire calls, accidents and EMS calls, East Pembroke went on 350 calls in 2014, up from the recent average year of about 300 calls.
The 2015 firematic officers as elected by members are: Newton, chief; Stephen Smelski, 1st assistant chief; Williams Torres Jr., 2nd assistant chief; Donald Newton Sr., firematic captain; Jose Santini, firematic lieutenant; Lori Ann Santini, EMS captain; Robert Yungfleisch, EMS lieutenant; Ray Schramm, fire police captain; Chris Bennett, fire police lieutenant; Gayton, training officer; Smelski, safety officer.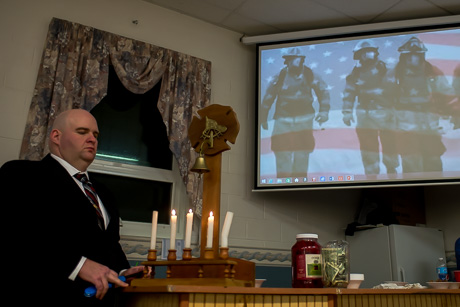 Candles were lit after the dinner in a memorial service to honor fallen first responders and members of the military.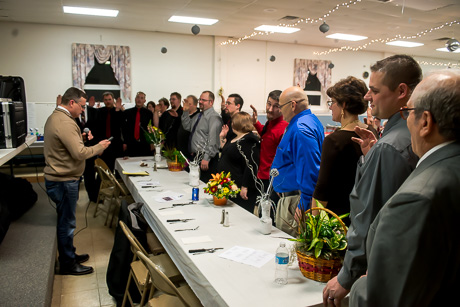 Genesee County Emergency Management Coordinator Tim Yaeger administered the oath of office for department and district officers.
January 11, 2015 - 11:36pm
#3
There has been a lot of comments on here and other website about the accident I was involved in. First, I would like everyone to know this accident had nothing to do with the East Pembroke Fire Department or Fire District. I understand the concerns some may have with me moving forward as an Assistant Fire Chief but I am here to serve our members, and community alike, to do the best job possible, so our community is safe and our members go home safely to their families.
As for my court case, the DWI charge was dropped. It was not dropped because I work for the Sheriff's Office as a dispatcher, but because of a blood sample that was collected and tested at the time of the accident. The test results cleared me of the DWI charge. As for the other charges, leaving the scene of an accident and driving a ATV on the roadway, I accepted a plea offer from the court.
I accept responsibility for my actions. I apologize to anyone who was offended by this incident and holds it as a judgement against me. I will always work hard for all in our community in whatever job I am doing. I thank you for your time and hope you all have a Happy New Year.
Pages