January 23, 2015 - 12:59pm
Deputy County treasurer resigns, new one is appointed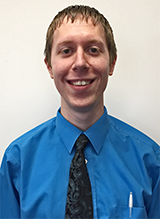 Press release from Genesee County Treasurer Scott German:
January 23, 2015
It is with very mixed feelings that I announce the resignation of James D. Stack, Deputy County Treasurer, and the appointment of Kevin J. Andrews as my next Deputy. Mr. Stack is resigning effective today to become a Monroe County Deputy Sheriff. James said becoming a deputy sheriff was a dream job of his since he was a young man. I will sincerely miss Jim, not only was he a great deputy to me, he is also a great friend. I wish Jim all the best in his new career.
Kevin J. Andrews, 26, of LeRoy, is my choice to succeed Jim as my next deputy. Andrews currently works in the Treaurer's Office as the Director of Real Property. I have worked with Kevin for four years and he has become a very valuable employee and will fit in well as Deputy Treasurer.
Kevin obtained his Bachelor's Degree in Mathematics/Statistics and Financial Economics from the University of Rochester in 2010 and has worked in the Treasurer's Office since he graduated.
Kevin and his wife, Alexandra, are expecting their first child in March.
Scott D. German
Genesee County Treasurer
January 23, 2015 - 5:30pm
#1
I have worked with Kevin Andrews since he became Deputy Direcotor of Real Property. He was THE BEST CHOICE to fill that position, and when he was chosen to be Director I (as were all the assessors in Genesee County) was THRILLED. I couldn't believe that someone so new, and so young could come into either of those positions and be ABSOLUTELY BRILLIANT at picking up on working the Real Property System, AND work with such a varied group of people. Congratulations to Kevin on this new position - and congratulations to Scott German for getting himself an absolutely BRILLIANT Deputy County Treasurer. He will never regret it. I do, however, regret LOSING Kevin as Director of Real Property. He is going to be sorely missed. Congratulations, Kevin - you DESERVE this.