April 21, 2015 - 9:00am
Dan Ireland, the local kid who stayed home, rose to the top, with the help of local mentors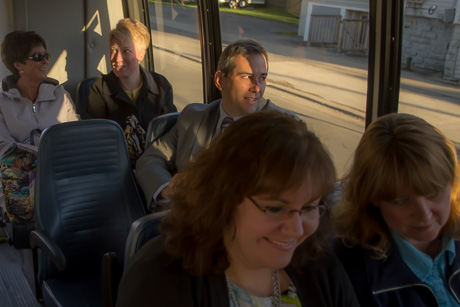 Dan Ireland riding the shuttle from St. Jerome's to UMMC on a recent morning.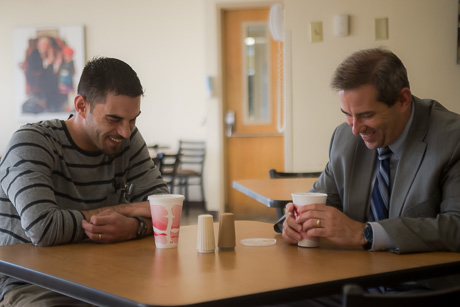 Jeremy Cosimeno and Dan Ireland share a cup of coffee and a laugh in the UMMC cafeteria before starting a recent workday.
From early in his career, there were people who saw something in Dan Ireland and encouraged him along his path from orderly to president of his hometown hospital.
While perhaps not a tale ripped from the pages of Horatio Alger, Ireland does stand out in an era when young people are indoctrinated to believe they must escape their smalltown roots to make something of themselves.
Ireland was born in Batavia, attended Batavia High School and started his collegiate career at Genesee Community College. While still in college, he landed a job at St. Jerome's Hospital, and outside of a brief stint with a hospital in Rochester, he has spent his entire career with St. Jerome's, Genesee Memorial or UMMC, rising from entry-level to top executive over the course of 26 years.
The climb to the pinnacle is something Dave Shaffer saw coming. He told Ireland where he was going, but Ireland didn't buy it.
Ireland said the two good friends laugh about it to this day.
"He said to me one day, 'You're going to run this hospital someday,' " Ireland said. "I said, 'No, I don't think that's ever going to happen.' He reminded me about it when I was appointed, but I never had that vision."
Ireland started out in college with the intention of going into information technology, but as a volunteer with Town of Batavia Fire Department, he was exposed to patient care. 
"Those were the days when paramedics were just coming into departments," Ireland said. "You got them in the ambulance and raced to the hospital as quickly as possible and we actually did very little out in the field for patients. As I saw more of that developing, it piqued my interest -- how do I care for patients?"
Ireland decided to become a nurse, switched majors at GCC and took a job at St. Jerome's, transferring a year later to Genesee Memorial.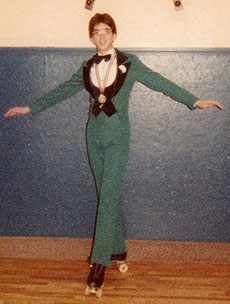 Back when Batavia had a skating rink, Skate 98, Dan Ireland was a champion rollerskate performer.
"I think he's a lot like me," Shaffer said. "He's easy going. He treats people like he wants to be treated. I don't have a problem with people like that.
"I never had a doubt my prediction wouldn't come true," Shaffer added.
In those early days, Gloria Stevens also saw something in Ireland that set him apart.
She met him while working at St. Jerome's and he was working on an ambulance.
"He was always smiling, always friendly," Stevens recalled. "He always seemed to be in a good mood every time I'd see him and he just seemed like a really nice young man."
Her daughter, Amy, had also taken note of Ireland and mentioned him to her mother.
"I think she thought he was cute," Stevens said.
One evening Stevens asked Ireland if he was dating anybody.
He wasn't.
So Gloria took it upon herself to ask him on a date on behalf of her daughter, to a family wedding.
Amy and Dan have been married 22 years and have three children, Rebekah, 18, Brian, 15, and Kelly, 12.
Ireland's made a great son-in-law and father to her grandchildren, Stevens said.
"It's probably one of the best decisions I ever made," Stevens said.
Dan and Amy quickly became a team, pushing each other through their studies and making sure they got better at their jobs.
The hospital bosses noticed.
It wasn't long after Ireland became a nurse that he became a supervisor in the emergency room.
Ireland began to develop mentors who helped guide his career. Dr. Diane London was one who always made time for him, he said. She would answer any question and provide guidance on patient care.
"She was a fantastic person," Ireland said. "You could walk into ER any time and sit next to her and ask her question. That was learning clinically, that was building my knowledge -- 'What happened? What happened with this patient?' She would make time for you no matter what."
By 1997, computers were starting to work their way into patient care and suddenly Ireland's duel experience in IT and nursing opened a new opportunity for him.
The idea of using computers to help improve patient care captured Ireland's imagination and the hospital needed somebody with both a medical background and IT training.
"All of the sudden, this new idea of helping people with computers and, wow, we're going into this new era of documentation and clinical results and getting things to bedside quicker, and I sat back and realized, 'I can do the best of both worlds,' " Ireland said. " 'I can make this happen. I can teach nurses how to do it and still be a nurse and still use that clinical experience.' "
Not that bringing the nursing staff into the Digital Era was always a smooth transition.
Ireland recalled one nurse who was very upset with him.
"She was livid," he said. "She said, 'You've taken my time with patients from here to here and I'm spending all this time on the computer. It's a horrible thing.' "
About three months later, Ireland said, she was upset for a different reason. The system went off-line for maintenance.
"I got a phone call from her and she said, 'Why did you take my computer system away from me? It's been perfect,' " Ireland recalled.
He added, "It was a validation that the transition of technology really made a difference."
In 2001, Ireland took a position with the University of Rochester that he thought would advance his IT background, but within six months, Charlie Kenney, then CEO of the Batavia hospital, wanted him back.
The hospital needed somebody to do some high-level analytics, tracking population trends, and after a couple of meetings, Ireland realized this was a good job for him.
In 2003, he was promoted to director of Quality Management and created a case management program.
At this point, Karen Peters became one of his mentors.
When she passed in 2005, then CEO Mark Schoell appointed him to her former job, VP of Clinical Services.
Ireland lost two mentors, London and Peters, and gained a new one in Schoell.
"I was quite happy working for her (Peters) as director of Quality Management and suddenly she was gone," Ireland said. "She was a key part of my development. When you lose mentors, you miss them, but then you've got to find your own way."
Under Schoell, Ireland began to move up the executive ladder, taking on bigger titles and the greater responsibilities that went with them. He was VP of Support Services and then COO.  
He oversaw multiple departments and services, and supervised remodeling the Jerome Center and addition of the new surgical wing, including securing financing.
Schoell was a great mentor, Ireland said, giving him a job, even a big job, and letting him do it with minimal interference, but always there for guidence and to answer questions.
While Schoell may have been grooming an eventual successor, that wasn't necessarily Ireland's ambition.
"The ambition was doing a project and doing it successfully," Ireland said. "It was getting a project and saying 'How do I get it done? What do I need to know about that?' So that's where the ambition kicked in. I have this desire to do the right things and to get them done. Sometimes that's a lot of extra work you put in to make that happen. I think that's where the ambition was, but not for the position."
As Ireland moved into higher-profile roles, he became more interested in learning about leadership. He has his favorite books on leadership, his favorite speakers, he's attended seminars and workshops, and he's also found serving on community boards a great way to observe and learn about leaders.
The Bergen resident is on the Gillam-Grant Community Center Board and the Byron-Bergen Central School District Board of Education. He's also been through Leadership Genesee.
"Sitting on boards has helped educate myself," Ireland said. "Sitting on the school board, especially, you learn a lot about the different ways people lead. (Byron-Bergen schools Superintendent) Casey Kosiorek is a phenomenal leader. I've learned a lot just by watching him, how he interacts with his staff. I've transferred some that in how I do things."
From all appearances, Dan Ireland, the guy who rose through the ranks and was mentored by so many people in his home community, has been embraced as a leader by the UMMC staff. 
Ireland makes it a point to be accessible to as many of the hospitals more than 700 employees as possible. He often rides the shuttle from the St. Jerome's parking lot -- where employees are encouraged to park -- and frequently takes his meals in the cafeteria. He also regularly visits all of the departments of the hospital. It's impossible for him to know everybody's name, but Colleen Flynn, director of public relations for UMMC, offered during an interview in his office that to those who have worked with Ireland, his presidency seems like a natural fit. 
"I think we all saw leadership potential in him," Flynn said. "I don't think there is a single employee, manager, director in the organization who was surprised when Dan was named president. It was a natural progression."
Now that he's the leader, the mentor himself, and the guy from his own community leading one of the most important institutions in that community, Ireland takes seriously the responsibility to ensure UMMC delivers quality care.
He's also well aware that isn't the reputation UMMC necessarily enjoys locally.
Sitting in his president's office, when asked about the issue, he talked about it at length.
"We can't expect the people of Genesee County to just look at the hospital and say 'That's the hospital,' " Ireland said. "We have to work to earn the trust of every member of the community because that's what they expect. They expect us to continuously improve, so we have to continue to improve.
"There have been people who have had less than a desirable experience with the hospital. They've come here and sometimes it's been bad for people. You have to understand the human form. People don't forget easily and some people forgive and forget easier, and others don't. We will always run into people who say, 'I'll never go back to that hospital because this happened to me.' What I ask people is 'Are we different today than we were yesterday?' We have the ability to change. If we've done something wrong, and they tell us, we'll work to create change to make it better. We're in a human world, so we will not always do exactly what we want to do."
Yes, staff members have bad days, but personal bad days shouldn't translate into bad experiences for patients and their families, said Ireland, who reads every patient experience report and when he comes across a negative review, he doesn't see it as just a rant. 
"We don't see it as an angry or dissatisfied patient," Ireland said. "We see it as an opportunity for us to make a change and hopefully keep that from happening again and to make it better."
It's not just an issue of UMMC looking good or making more money. Quality customer care and a solid reputation with the local community are about providing advantageous health care.
"I don't just want to see the numbers get better," Ireland said. "When sombody sayd they don't want to go to United Memorial, that usually means they have to travel further for health care in a lot of cases and that's not good for them. That's not healthy, especially if they're ill. That's not a good experience. Either way, it's about their health. It's not necessarily about us having good scores up on the wall. It's about the fact that when patients have a good experience here, they're getting good health care and hopefully improving health."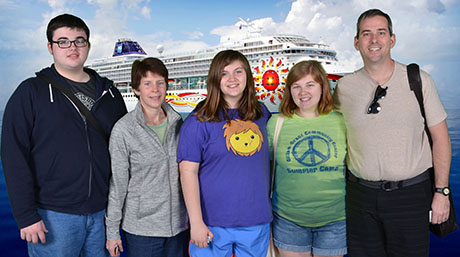 The Ireland Family (photo submitted by Dan Ireland). Dan Ireland might be one of the only hospital presidents in the nation who rises early in the morning to feed the family's goats (22 of them, along with three sheep and a half dozen chickens and rabbits). The family farm started four or five years ago when his son said he wanted a horse. "I said, 'Horses are a lot of responsibility' and I said, 'Tell you what, I'll get you a goat. If you raise that goat all by yourself for a year, I'll get you a horse.' " The Irelands still don't have a horse, but their livestock has become a hobby for the whole family and led to involvement in 4-H.
April 21, 2015 - 10:15am
#2
We need more doctors here such as kidney and lung specialists. I am a kidney dialysis patient and was told to go directly to Rochester in an emergency because UMMC can do nothing for me. They have put tons of money into the place but forgot to bring in the doctors!