April 27, 2015 - 2:10pm
Dash cam video shows three-vehicle accident on Thruway in Batavia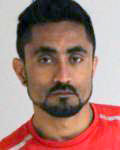 Kiran Thapa
This video of a three-vehicle accident last Tuesday on the Thruway going through Batavia already has more than 230,000 views and has drawn more than 400 comments.
The driver of the Camaro was charged with DWI.
Kiran Thapa, 32, of Columbus, Ohio, was allegedly driving with a BAC of .19. He was also charged with aggravated unlicensed operation, 1st, a Class E felony.  
Thapa was arraigned in Town of Batavia Court and jailed on $2,500 bail or $5,000 bond.
A spokesman for Troop T had no further information available on the accident at this time.
April 27, 2015 - 3:56pm
#5
Ted, and Gale. I agree that the pickup had some(thing) to do with this accident. But, not for the reason you pointed out.
As for the pickup "just hanging in the passing lane", I disagree. He was passing the 'tractor-trailers'.
Now, if you watch closely, there is a vehicle IN FRONT of the pickup, thereby (somewhat) impeding his ability to get out of the situation quickly. With the view that we have from the dashcam, personally, I believe the pickup was not a 'safe & reasonable' distance behind the lead vehicle (which is usually described as a 'minimum' distance of 3-seconds-behind - when I took drivers-ed, they taught 1 car-length/per/10mph). Had a deer dashed in front of the lead vehicle, and that driver slammed his brakes on, I don't believe there was any way the pickup driver would've been able to react in time to avoid a rearend collision.
Same goes for the 'dashcam vehicle'. At one point, the pickup, the Camaro, AND the 'dashcam vehicle' are in a space equal to not-much-more than the length of the tractor-trailer. THAT'S not a safe or reasonable distance. Especially at thruway speeds (which, granted, we don't know how fast the vehicles were going).
Wisely (or, maybe just luckily), the driver of the 'dashcam vehicle' adjusted his following distance right before the accident. Otherwise, he, too, might've found himself pickin' some of his own vehicle parts off the roadway.
From http://www.smartmotorist.com/traffic-and-safety-guideline/maintain-a-saf... , a 'safe following distance' for vehicles going 65mph is @ 288-feet (or, approx. THREE tractor-trailer lengths) - ALMOST a football field's length. These drivers were, what, 20/25 feet apart?
Nope, I saw several unsafe practices at play here.