November 22, 2017 - 2:18pm
Batavian Spiotta captures Genesee Region Senior Masters bowling title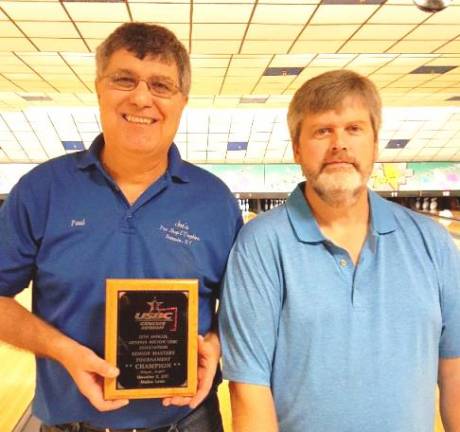 Batavian Paul Spiotta became only the second bowler to win a GRUSBC Masters and Senior Masters title when he captured the 12th annual Genesee Region USBC Senior Masters tournament on Nov. 11 at Medina Lanes.
The 60-year-old right-hander defeated 50-year-old lefty Mike Johnson, also of Batavia, in an exciting final match, winning a ninth and 10th frame roll-off, 59-40, after both bowlers put up scores of 246.
---------------
Mike Pettinella's Pin Points column will appear on Friday this week.
---------------
Spiotta strung four strikes before leaving one pin on his final ball, forcing Johnson to get three strikes to win. Johnson got the first two -- the second one on the cross -- before leaving a solid 7 pin, setting up the roll-off.
In "overtime," after Johnson spared, Spiotta delivered three straight strikes to come away victorious.
Spiotta said he was "very focused" throughout the tournament, and noted that his carry got better after the qualifying round.
"I had a nice line to the pocket but I was also tripping a few 4-pins when needed plus I had a crossover strike and a cave-in strike that really helped," he said.
After he and Johnson tied, all Spiotta thought about was coming up with strikes in the roll-off.
"All I knew was that if I could keep striking, I'd win and that's what happened," he said. "Hats off to Mike Johnson in his first Senior Masters, he really bowled very well down the stretch."
The victory was worth $260 for Spiotta, a former GRUSBC association president, who averaged 226 for his seven games -- qualifying 10th with 630 before posting 485 for two games in the second round and 223 for his one game in the third round.
He also won a free entry into the GRUSBC Masters in February and a plaque from Joe's Awards & Trophies. The event drew 41 entrants.
Johnson earned $150 for placing second while Jim Foss of Medina won $100 for placing third. Johnson defeated Foss, 267-192, in the first game of the three-bowler stepladder finals to earn the right to face top-seeded Spiotta.
Jim Pursel of Batavia, Rick Saunders of Batavia and Phil Schepis of Medina finished in the fourth through sixth spots, winning $70 each, while Bill Logan of Albion, Fred Gravanda of Batavia, Bob Hodgson of Medina, Scott Shields of Batavia, John Wolff of Batavia and Joe Trigilio of Attica also cashed.
Spiotta joins Gravanda, his cousin, as the only Masters and Senior Masters champions.
For complete tournament statistics, go to www.bowlgr.com.
Photo at top - Paul Spiotta and Mike Johnson.
November 22, 2017 - 3:32pm
#1