January 2, 2018 - 4:10pm
Batavia PD raises nearly $2K for charities in November and December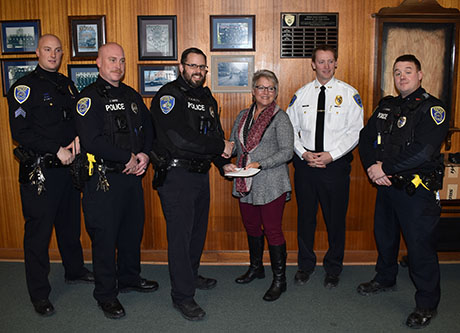 Press release:
The Batavia Police Department has closed out the Mo-Vember / Don't Shave December campaigns for 2017. The department was able to raise $1,320 for Genesee Cancer Assistance during Mo-Vember.

Don't Shave December raised more than $600 for Genesee County Sheriff's Jail Deputy Nicholas Bender and his family. Members of the department would like to thank the community for their support and donations.

The Mo-Vember Worldwide Campaign started in 2003 in Australia and has since grown. Mo-vember was started to bring awareness to men's health; specifically, prostate cancer, testicular cancer, mental health and suicide prevention.
Submitted photo: Sue Underwood, director of Genesee Cancer Assistance, receives a donation check from Officer Frank Klimjack. Also pictured, Sgt. Chris Camp, Officer Jason Davis, Chief Shawn Heubusch, and Officer James Prusak.
January 3, 2018 - 4:03pm
#1
Thank You Batavia PD! Always involved.