Image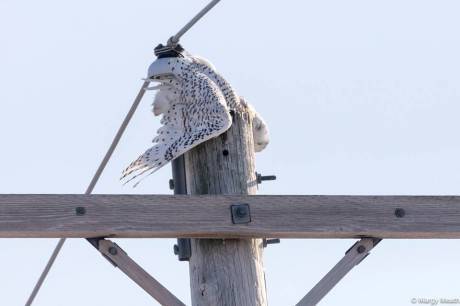 Area wildlife photographers were shocked and saddened Friday to find a dead snowy owl Friday afternoon atop a utility pole near the Genesee County Airport.
The DEC confirmed today that it was notified of a dead snowy owl that had been banded at that location.
National Grid, after being contacted by the DEC on Friday, assisted in recovering the animal from atop the utility pole (see video below).
Local photographer Jim Burns (who freelances for The Batavian) is a wildlife photographer and a frequent visitor to the airport, which attracts both numerous snowy owls and photographers. He said such deaths as this animal's are not uncommon. The owls fall victim to electrocution (the possible cause in this case), being hit by cars and poisoning. 
Poisoning is perhaps the most preventable cause of death of snowy owls. The owls feast on rodents and if the rodents were poisoned before becoming an owl's meal, the owl is poisoned as well.
"That's the main message to get out there," Burns said. "People should put out traps instead of poison."
Though still rare, the birds have been showing up in WNY in recent years, probably, because their northern hunting grounds are becoming crowded. It's generally the younger birds who migrate south. Burns estimated the deceased owl was no more than 2 years old.
The birds are banded by Operation SNOWstorm, which tracks snowy owls to assist in their preservation.  
The Department of Environmental Conservation asks that if you find a dead banded bird, report it on the website www.reportband.gov.
Photo by Margy Meath.Video by Oded Kalir.