March 29, 2018 - 10:08am
Collaborative effort turning hog pens into bike racks for Downtown Batavia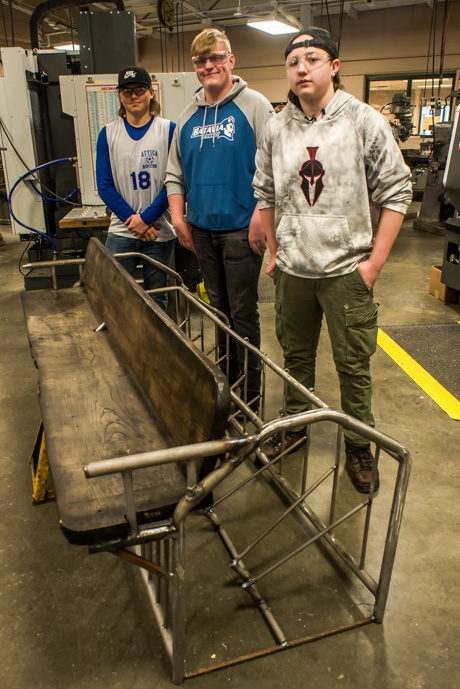 About a year ago, after Brooks Hawley moved into a family home in the Town of Batavia, with the help of Brian Kemp, Kemp asked if there was anything on the old farm that might be suitable as bike racks for Downtown Batavia.
Two weeks later, Hawley showed up at Kemp's shop with four hog farrowing pens in his pickup truck.
Kemp, co-owner of T-Shirts Etc., is an artist who specializes in turning found objects into art and he thought the pens just might work.
Kemp started talking to anybody he could about helping out with the project. He knew he needed people who could work with metal and weld and had the equipment to do it.
"As with all of my projects, mention it to enough people and sure enough, someone will bite," Kemp said.
One day, Tim Gleba, a machine shop instructor at Batavia CTE (BOCES) came into Kemp's shop to pick monogrammed shirts and Kemp told him about the bike rack project.
Gleba immediately saw the potential for the school to get involved, so for the past several weeks, students in four different programs have been converting the pens into bike racks to be placed around downtown Batavia.
The project brings together students from the machine shop, welding, auto body, and conservation.
James Roggow, a student from Byron-Bergen, designed and fabricated finials to cap the bench arms, and other students are fabricating other parts for the racks and bench, including filigree end pieces for the bench (only one of the racks will have a park bench attached); welding is putting the pieces together; auto body students will paint the metal; and the conservation students logged a tree and made planks from it for the bench seat and back.
Auto body instructor Jeff Fronk saw the project as a perfect community contribution for his students.
"I thought it was cool," Fronk said. "These are going to be around the city for a long time. When these guys become young adults and have families of their own they can say, you know what, I did that. We did that in our class."
Fronk said he's really into color and what colors mean. He said he's always associated the color blue with Batavia, so the benches, he said, will be painted in a metallic blue that fades into a metallic orange.  Blue, because it symbolizes peace, harmony and unity, and orange because it symbolizes balance and warmth.
Kemp said he's looking forward to seeing the bike racks installed Downtown.
"I'm excited to see the progress of this project, along with the amount of collaboration it has taken to pull this together," Kemp said. "We are blessed to live in a community like this."
Graham Manufacturing is also assisting with the project.
Top photo: Three of the machine shop students who worked on the project with the first bench that is near completion, Arden Schadt, left, Evan Bartz, and James Roggow.
Below, one of the finials for the bench and a picture of the design on a computer.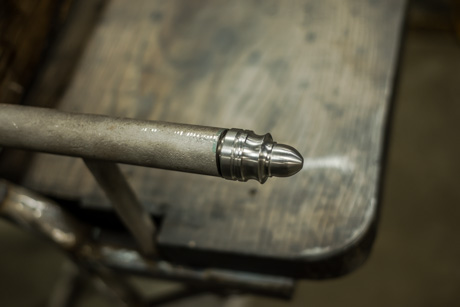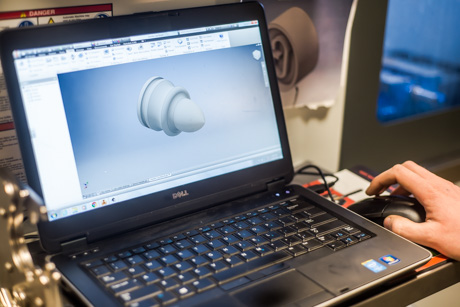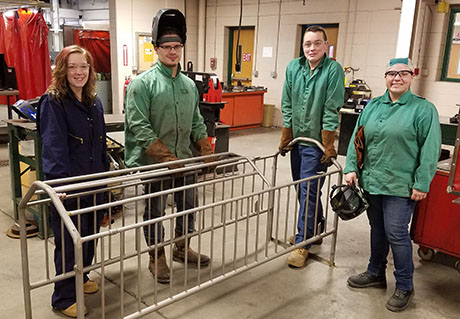 This is what the pen looked like when it arrived at the machine shop (photo courtesy Tim Gleba).
March 29, 2018 - 1:26pm
#1
Thumbs up to everyone involved ! Repurposing and making needed and useful items; and including students in a project that benefits the community. .
March 29, 2018 - 1:38pm
#2