March 12, 2015 - 3:06pm
Local youth 'cheer' for Batavia girl with leukemia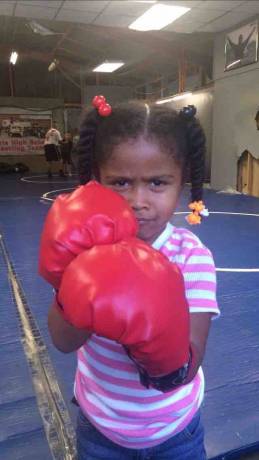 A "bulldawg" fighting for her life is a powerful opponent; a "bulldawg" with a team behind her is even more powerful.
Emma Harris, age 4, was diagnosed with leukemia on Jan. 17. Local cheerleaders have teamed up with the community to help Emma and her family with a cheer-a-thon dubbed "Team Emma -- We Got This."
During the afternoon cheer-a-thon this Saturday (3 to 6 p.m.), 47 girls ages 4 through 12 will learn stunts, jumps and a dance routine, which they will then perform for the public in the Batavia High School gym at 260 State St. in Batavia.
BHS cheerleaders and dancers from local studios will also perform in addition to the cheer-a-thon participants.
School doors will open at 6 p.m. The gymnasium will open at 6:30 and the performances begin at 7.
It is free and the public is invited. But of course there will be a donation table for anyone who would like to contribute to help the family with medical and travel expenses.
A Chinese auction and 50/50 raffle will be held, featuring a variety of items ranging from Sabres' tickets to food, toys, gift certificates to local restaurants and businesses, purses, framed pictures, cleaning products, etc.
A student in Jackson Primary School's pre-school program, Emma is an avid cheerleading fan and honorary mascot of the Batavia Bulldawgs, a youth football and cheerleading program. Cheer director Sherri Wahr said that while Emma was not old enough to be a cheerleader, she "put so much effort" into showing up at practices and cheering them on that they "put her in a uniform and let her be our mascot."
"She was there longer days than most of the girls that cheered," said Wahr's daughter, Alexis (15), a JV cheerleader and an assistant to her mother with the Bulldawgs.
"She knew all the cheers just as well as the older girls," Wahr said. "And if they did something wrong, she told them."
She also became very close with Wahr's two daughters, Alexis and Lydia (12), even going so far as to name two of her stuffed animals after them.
When they found out about Emma's condition, Wahr and her daughters were understandably affected.
"I got a phone call from Emma's aunt," Wahr said, "and she told me about the diagnosis. My thought initially was, 'What can I do for them?' Then I picked Alexis and Lydia up from their cheerleading practice and told them the bad news. The first thing they said to me was, 'Mom, what are we going to do?' So brainstorming in the car, all three of us came up with the idea of doing a cheer-a-thon."
On the way to visit Emma at the hospital, they bounced different ideas off each other for a team name, a theme, etc. But it wasn't until they arrived at the hospital that the right idea hit them.
"We brought Emma a megaphone for everyone to sign when they came to visit her," Wahr said. "We wrote 'Team Emma' on it. And then we thought, 'That's awesome.' "
Then Emma's mother came in and showed them a headband someone had sent to the family. Written into the headband were the words, "We got this."
Cheer-a-thon participants were able to raise money for Emma by either submitting a $25 participation fee or obtaining sponsors.
Some, according to Wahr, have done both.
"I know there's been a request for another sponsor sheet," she said, "so somebody's out there getting a lot of sponsors."
Prizes will be awarded to the top three cheerleaders who bring in the most donations.
Whether in the form of sponsoring the cheerleaders, donating items for the raffle and auction, or donating equipment for Saturday's event, Batavia businesses have really come through for Emma.
"It's absolutely amazing the outpouring of support that we've had," Wahr said. "I would say almost half of the businesses in town have donated to Emma in some way, shape or form."
For more information, call or text Wahr at 356-0639.
Photo courtesy of Sherri Wahr.