March 6, 2020 - 10:43am
Alden vet says he is providing services for clients of pet clinic in Batavia that closed suddenly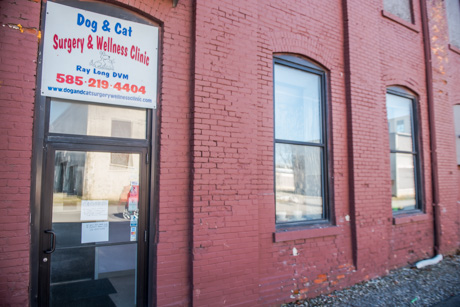 Former customers of the Dog & Cat Surgery & Wellness Clinic have been contacting The Batavian expressing concern about the apparently sudden closure of the company's office in the Harvester Center.
Clients have said the closure struck them as unexpected and their biggest concern has been retrieving medical records for their pets.
Dr. Matthew T. Will, in Alden, has made arrangements, he said, to take over the practice and is encouraging clients to contact him either to transfer care for their pets to his office or to obtain medical records.
He provided the following statement:
Dr. Raymond Long, DVM, retired this past Monday. This is certainly a milestone for Dr. Long but has presented some immediate challenges for his clients and patients. In the past 24 hours, I have had discussions with Dr. Long, and have made arrangements, with his permission, to provide for patient care.

Starting yesterday, Dr. Mathew Will, DVM at Country Village Pet Care Hospital located at 13269 Broadway St., Alden, will handle Dr. Long's retirement transition for all current patients. My hospital is a full-service hospital. Our phone number is 716-937-4588. Our website is www.aldenvet.com.

I know that with this change that some clients may have some concerns. I want to assure everyone that my main objective is to promote the continuity of care of every patient and make this transition as seamless as possible.

Current clients that have immediate sickness should feel free to call my office right away. Sick patients will receive any priority. Patients with chronic medical conditions or on daily medications will receive expedited priority and be accommodated.

Any clients needing prescription refills, appointments, needing medical record information or having any patient questions can speak to our medical team. We are here to help every pet parent and their pets.