November 8, 2018 - 5:49pm
Alexander HS presents 'Guys and Dolls' this weekend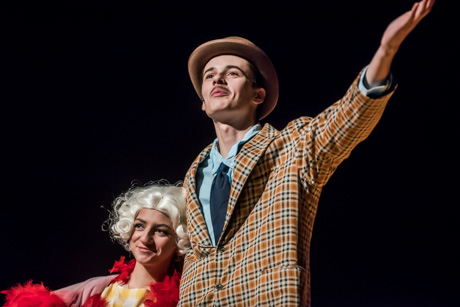 The theater and music departments of Alexander High School will perform "Guys and Dolls" this weekend.
Showtimes are 7 p.m. on Saturday, and 2 p.m. and 7 p.m., Sunday.
Tickets are $9, or $10 at the door. Students, seniors, and veterans can purchase tickets for $7 or $8 at the door. To purchase tickets online, click here.
Directors and crew:
Director, Kate Schrodt
Music Director, Mark Hoerbelt
Pit Conductor, Rachel Clark
Set Design/Builders, Jeff Houseknecht & Ethan Schrodt
Choreographer, Mary Loliger
Costumer, Loretta Stratton
Sound Technician, Trinity Reynolds
Light Technician/Stage Manager, Hunter Doran
The Cast: 
Nathan Detroit, Carson Daley
Miss Adelaide, Alyssa Lafferty
Sky Masterson, Nick Allen
Sarah Brown, Lydia Daley Nicely-Nicely, Nolan Quackenbush
Benny Southwest, Connlan Hotnich
Rusty Charlie, Shawn Calmes
Harry the Horse, Bradley Caudill
Lt. Brannigan, Kylie Shillea
Angie the Ox/Joey Biltmore's Voice, Ethan
Stroud Big Jule, Jake Day
General Cartwight, Kasey Smith Arvide,
Holly Ulrich Waitress/Actress, Erin Hess
Hot Box Dancers: Allison, Paige Sikorski Ferguson, Julia Francis Vernon, Emma Cline, Mimi, Emma Ferraro
Mission Band: Leanne Dolph, Jasmine Wessel. Morgan Burns, Sara Chase, Kathryn McClellan, Olivia Burkhardt, Mercades Koschara, Hailey Szczygiel