May 23, 2018 - 11:21am
Art continues to be big part of curriculum in City Schools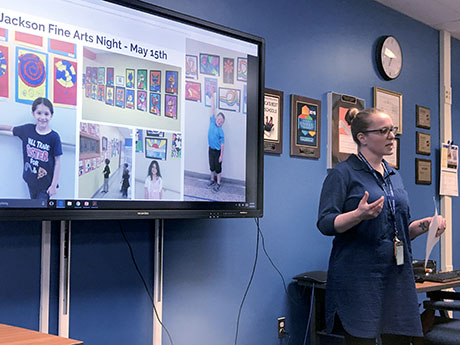 The Board of Education meeting Tuesday night included a department review from Amanda Antonucci, art teacher at Batavia High School.
Antonucci shared the art accomplishments and progress for Jackson, John Kennedy, Batavia Middle and Batavia High schools.
At the elementary level, first- and second-graders held their annual monster swap. The first-graders draw monsters and the second-graders re-draw them. She said the project is so popular the teachers are thinking of expanding it for next year to include middle school students, who will make monster sculptures from the drawings.
Jackson just held its annual Fine Arts Night, which gives the students a chance to see their art displayed as if in a gallery.
The middle school was engaged in several cross-curriculum projects, including students drawing their portraits with adjectives describing themselves instead of regular lines. They also looked at cells under a microscope and painted pictures of what they saw.
Once again, this year, on May 30 and 31, the middle school will hold its Human Rights Heroes project.
At the high school level, there were two new electives, both very popular: Digital Photography and Graphic Design.
The students also had a number of electives to choose from, including Drawing, Printmaking, Studio Design, Portfolio, and Sculpture.
"We have great electives," Antonucci said. "For a school our size, it is really outstanding. I really appreciate it."
One of the guest artists who visited the school this year was a 1969 graduate of BHS who is a sculptor.
A popular new activity was mARTch Madness. Antonucci said in March, all the kids can talk about is basketball so the teachers set up a bracket of 16 contemporary artists and the students discussed and debated their work.
"There was a lot of great commentary and discussion," Antonucci said. "We're going to do this forever now because it was such a big hit."
She encouraged her students to enter work into a 6x6 show in Rochester. Antonucci herself entered a solo show featuring portraits she painted of students; and she and student Sophia Dinehart entered a show just for an art teacher and an art student to share a gallery space.
BHS will host its Art Appreciation Night May 30.
Below are photos of student-created and painted murals that are being completed in the hallway of the district administration building.