October 16, 2018 - 5:00pm
Beth Kemp steps down as director of the BID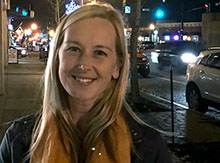 Beth Kemp, executive director of the Batavia Improvement District, has decided the business she co-owns with her husband Brian, T-Shirts Etc. needs more of her time and attention so she's resigned her position.
"It was an extremely hard decision for me because I love working as director of BID but T-Shirts Etc. continues to grow and I felt it was shortsighted of me to allow my own small business to struggle and continue my role here," Kemp said.
"I was only able to maintain a few hours at T-Shirts Etc. while working for BID, which was definitely not enough to support what we need to do over there."
Kemp has given notice to the board but she didn't share her final work day.
The Batavian reached out to Jennifer Gray, president of the BID Board of Directors, for comment and information about finding a replacement for Kemp but we have not yet received a response.
Kemp became director in November 2016.
"This opportunity has been amazing and I am so thankful to have been able to work with so many amazing people in our community," Kemp said. "In the past two years we have put in a lot of work in.
"We are in a great place with our finances, events, sponsorships, business relationships, community relationships, and mission. I look forward to still volunteering for events and community projects as the BID needs."
File photo.