June 13, 2018 - 11:20am
Byron-Bergen HS marks successful first year for FFA program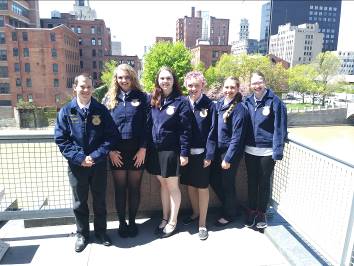 Press release:
On May 29, Byron-Bergen Jr./Sr. High School held their first Future Farmers of America Awards ceremony since restarting an agriculture program after an absence of almost 50 years.

The presentation honored student members and their supportive FFA parents. Certificates of Appreciation were given to many community advisors and volunteers, and district personnel.

The FFA chapter's student officers were recognized as a cohesive leadership team who have driven the growth of the new chapter: Garrett Sando (president), Cole Carlson (vice-president), Hallie Calhoun, Isabelle Stevens, Andrew Parnapy and Seth Sharp.

Greenhand FFA degrees, for senior high school students, were given to Jacey Donahue and all six FFA officers. Garrett Sando was named the Star Greenhand for 2018. Discovery FFA degrees for Jr. High School students were given to Caleb Carlson, Madelynn Pimm, and Rachel Best. Four students received Proficiency Awards: Cole Carlson (Beef Showmanship), Sando (Employment Interview), Parnapy (Creed Speaking), and Sharp (Agricultural Sales).

The ceremony marked the end of the beginning for the Byron-Bergen agriculture program and FFA chapter. It has been an amazing year for both, with about 15 students getting involved in the hands-on approach to learning offered in the new Introduction to Agriculture Science class, along with the Living Environment class.

Students marveled at the opportunity to learn about agriculture as a science course, and to be able to explore it even more deeply through FFA.

"Students are really excited and proud to participate in FFA," said Byron-Bergen's Cornell Ag-certified teacher Jeff Parnapy. "They love the teamwork and leadership activities involved.

"Our kids have stepped up and taken responsibility for making the decisions and doing the work necessary for the chapter to be successful, to raise funds, and to take part in the community.

"Our group attended the recent NYS FFA Convention in Rochester and got to meet students from around the state. We're planning to participate at the State Fair and the Genesee County Fair later this summer."

Parnapy says the chapter will begin active competition in statewide FFA contests this fall, and take part in more state and FFA District 9 events and trips next year.

He says FFA is undergoing a renaissance, with several local school districts starting new chapters. He also credits the school's Advisory Committee — local volunteer farmers and animal science experts — for their help and guidance.

Parnapy will be attending professional development sessions in Animal Science this summer, with the hope of offering it as an additional class in the 2019-20 school year.

"We had a great first year bringing back Ag Education and FFA for the first time in so many years," said Jr./Sr. High School Principal Patrick McGee.

"Kudos to Mr. Parnapy and our kids for getting this back off the ground. We truly believe that this program is going to continue to grow and be a viable part of the Jr./Sr. High School."

FFA is a national organization that makes a positive difference in the lives of students by developing their potential for premier leadership, personal growth, and career success through agricultural education. www.ffa.org
Top photo: Byron-Bergen's FFA members at May's NYS FFA Convention in Rochester. (l-r) Garrett Sando, Jacey Donahue, Isabelle Stevens, Rachel Best, Madelynn Pimm and Hallie Calhoun.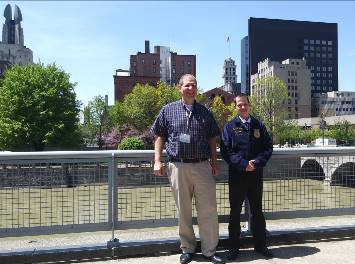 FFA President Garrett Sando (right) with advisor and Ag teacher, Jeff Parnapy.